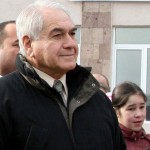 YEREVAN — 70-year-old Armenian American businessman Serop Der-Boghossian was sentenced on Thursday to 15 years in prison on charges of pedophilia which he partly accepted.
Der-Boghossian the owner of a mining firm based in the northern Armenian town of Akhtala, was convicted of "coercing" local underage boys to have sex with him.
Testimony by 10 boys, most of whom have already come of age, was examined in the closed-door trial that began in July. The testimony by the victims and the video footage found at Der-Boghossian's home were key to the ultimate verdict on the businessman.
Der-Boghossian's lawyer, Tigran Safarian, condemned the verdict as unfair and said he will appeal it. "If, according to the prosecution, an individual had a sexual relationship with Serop Der-Boghossian for two years, he could not have done that against his will," Safarian told RFE/RL's Armenian service (Azatutyun.am).
During his trial the Iraqi-born businessman said he had consensual sex with both underage and older men. He insisted that he did not do that against their will.
Prosecutors had asked the court to give the maximum sentence for this type of crime – 15 years in prison, considering as an aggravating circumstance the fact that there were many victims, "boys who are future soldiers", as well as the attitude of the public towards such crimes.
Der-Boghossian was listed as an adviser to Prime Minister Tigran Sarkisian on the Armenian government's website until January 31. According to the government press office, the Metal Prince owner stopped working for Sarkisian on December 31, 2010 for reasons unrelated to the sex scandal. Der-Boghossian had received various certificates and letters of gratitude by the current president and the government of Armenia.