YEREVAN (Mediamax) — U.S. experts are spending three weeks training detection and neutralization of improvised explosive device (IED) in peacekeeping engineering battalion of Armenian armed forces starting from July 11.
The American side expressed readiness to support not only in organization of regular courses within the framework of the Global Peace Operations Initiative (GPOI), but also detection and sterilization equipment acquirement for improvised explosive devices.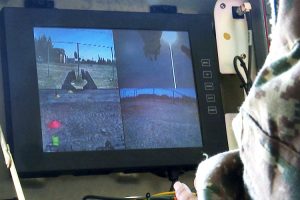 Apart from that, American experts are conducting 2 week-long training on target distraction and laser shooting simulator equipment maintenance and repair in Armenian Armed Forces Zar education center starting from July 11.
Armenian side purchased Miles system training equipment a year ago within foreign military financing program: the US side organizes regular courses on exploitation and repair after that.
This training equipment gives opportunity to conduct training exercises maximally similar to combat actions.
Armenian Defense Ministry plans to invest in new Miles equipment for two additional units in the future.