YEREVAN — A group of armed supporters of jailed opposition leader Jirayr Sefilian seized a police station and hostages in Armenia's capital Yerevan on Sunday, killing one police officer, wounding three and taking several others hostage.
Varuzhan Avetisian, one of the members of the "Founding Parliament" movement that stormed the police building in Yerevan's southern Erebuni district, said the "rebellion" is also aimed at forcing President Serzh Sarkisian to resign. He called on Armenians to take to the streets to force the government to step down.
Avetisian told RFE/RL's Armenian service (Azatutyun.am) that several law-enforcement officers and Founding Parliament members were wounded when police tried unsuccessfully to retake control of the building.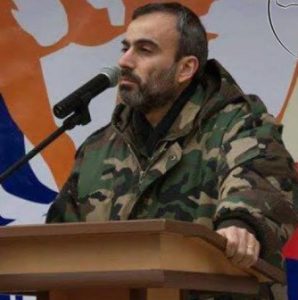 Sefilian, Founding Parliament's top leader, was taken into custody on June 20 after allegedly acquiring large quantities of weapons and forming an armed group to seize government buildings in Yerevan. Law-enforcement authorities also announced the arrest of six other individuals.
Sefilian was afterwards formally charged with only illegal acquisition and possession of weapons and ammunition. The outspoken oppositionist and his associates strongly deny the charges as politically motivated.
Founding Parliament has repeatedly demanded its leader's release, saying that he is prosecuted because he planned to thwart Armenian territorial concessions which President Sarkisian allegedly plans to make to Azerbaijan.
Armenia's National Security Service (NSS) confirmed in a statement that one policeman had been killed and two wounded in the violence, but that negotiations were now underway to try to persuade the hostage takers to lay down their weapons.
The killed police officer was identified as Colonel Artur Vanoyan. Another colonel is among the wounded officers, he said.
"Special units remain on the scene in a state of combat readiness, but the order to attack or take any other action has not been given to them," the NSS said.
The NSS accused the hostage takers' supporters of spreading false rumors on the internet about an uprising and the seizure of other buildings. Such assertions were "disinformation," it said.
Two hostages had been freed, it said, and "several" hostages remained. Armenia deputy police chief Vartan Yeghyazarian and Yerevan deputy police chief, Valery Osipyan were reported to be among them.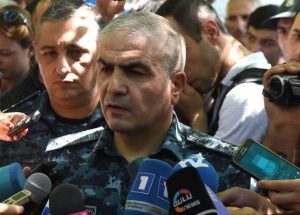 General Hunan Poghosian, the first deputy chief of the Armenian police, warned the hostage takers to surrender themselves and rejected their demands to free Sefilian, but made clear at the same time that security forces will continue to negotiate for now with them.
"Negotiations are underway with them right now," Poghosian told reporters near the police building controlled by the gunmen. "The police and other law-enforcement bodies are continuing to urge them to back away from their criminal plans and to surrender themselves to the authorities."
Poghosian stopped short of setting any deadlines for their surrender. "We will continue to negotiate as long as we have hopes to resolve this situation through negotiations," he said.
"They have made only one demand: to free Jirayr Sefilian," added the police general. Asked whether the authorities could meet it, he said: "Of course not."
President Serzh Sarkisian held a meeting with security officials to decide how best to handle the situation, his office said, saying he had been told that the siege was completely under control.