STEPANAKERT (RFE/RL) — Nagorno-Karabakh Army has launched a counteroffensive on Sunday regaining strategic high ground, as heavy fighting raged for a second day between Azerbaijani and Armenian forces.
In a statement issued on Sunday morning, the army said its troops won back a "tactically important" position near the northern village of Talish. "The enemy was pushed back, suffering considerable losses," it claimed. "Two soldiers from the Karabakh side were wounded during the hostilities."
"Karabakh forces are also conducting successful operations at the southern section of the frontline," the statement said, adding that they destroyed three Azerbaijani tanks and one armored personnel carrier there. "The number of destroyed Azerbaijani tanks has reached 15," Karabakh Army spokesperson Senor Hasratian told RFE/RL's Armenian service.
Fighting on April 3 was described as fierce in the region's northeast and along the southernmost section of the "Line of Contact," which effectively serves as a front line separating the opposing sides.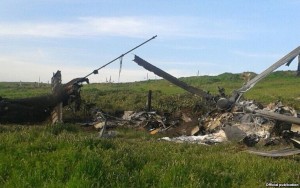 The Azerbaijani military confirmed later in the day that "Armenia tried to regain positions lost by it" but claimed to have thwarted those attempts.
In another statement released early in the afternoon, Azerbaijan's Defense Ministry said that it was calling a unilateral cease-fire in response to calls from international organizations.
"If the Armed Forces of Armenia do not end their provocative actions … the Armed Forces of Azerbaijan will resume offensive operations using all weapons at their disposal," it said, according to Haqqin.az.
Armenia's Defense Ministry swiftly dismissed the announcement as an "information trick," while the Karabakh army called it "disinformation" and "an imitation of ceasefire."
The army said that even after Baku's statement Azerbaijani troops continued to shell not only Karabakh Armenian positions but also civilians. In particular, it said, they fired on the northeastern Karabakh town of Martakert from Grad multiple-launch rocket systems and 152-milimeter howitzers.
Nagorno-Karabakh military officials later said they were ready to discuss the terms of a cease-fire but only in the context of "restoring former positions."