Recently, MassisPost had an opportunity to interview writer Aris Nalci about the state of affairs in Turkey and his inspiration to translate the 1921 book "Ksan Gakhaghanner."
1. What was your motivation behind translating the book "Paramazlar" (Ksan Gakhaghanner)? How has it been received? Do you plan to translate more books and why?
The motivation was this: Turkish readers need to know that there were some Armenian political parties during the Ottoman time. Armenians were involved in many ways in politics and the democratization process. It's wasn't just after the genocide that we became democrats and were looking for freedom of speech.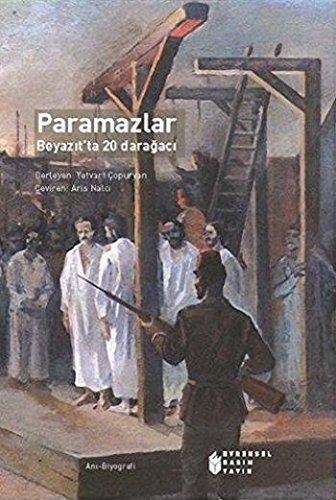 This book Paramazlar (Ksan Gakhaghanner) is an example of how a book like this was published in Turkey and told the story of Armenian social democrats in Turkey in the early 1900s. Many Turkish socialists start their history by the 1930s. However, this book proves that Armenians were already involved in Turkish society and politics, even before 1923. This book also breaks the walls and opens the minds of the socialist democrat Turkish institutions. That's why it was interesting. Since my publishing house has been suspended from the possibilities of publishing it, it is a bit harder than before to publish something in Turkish. But they continue their struggle with other publishing houses. There are two to three books on my list for future translations. My top priority is micro history books from the 1920s about Adapazar – Armash. Hopefully we will reach a level to be able to publish it.
2. What is the current state of affairs for Armenians in Turkey? Has any progress been made towards tolerance of minorities?
So. While I was writing your answers Turkish Ministry of Diyanet (Religion) after a long struggle decided to return the church properties of Syriac community in Mardin. This was a long ongoing case that took Syriacs years to get their patriarchate back. It is a good step and every pre-election season, we (minorities) had to find ourselves in that same position. Before elections, the state gives a bit of hope that everything can change and also this makes them look good in the western world. However, nationalist parties continue to discriminate Christians in Turkey. I can say that we are not in the same place as we were 10 years ago. But Turkey is a quickly changing country. We experienced positive relations with Armenians, during Turkey-Armenian protocols which led by an April 24 letter from Erdogan (it can be criticized in many ways but it is a fact) portrayed Armenians as "good people" in the mind of the Turkish public. And then in the next year's elections, the situation with the Kurds and the Syrian War, everything turned upside down. This shows me that the foundation of the relations with Christians in Turkey is not yet stabilized.
When we are thinking that all the policy of the country in republican time since 1923 is based on forgetting and forcing public to forget the old habits, relations, humanitarian relations with neighbors etc…
3. How has Garo Paylan's position in the Turkish Parliament changed the trajectory of the fate of Armenians in Turkey?
Of course, since Paylan became parliamentarian many things changed. No one can under estimate his role to give voice to 100 year old souls. For many people, his actions towards Armenians will not bring about change in the long term. But for me personally, I can say that there are some actions which will open people's minds. Imagine after 100 years of denial, the Turkish public questioned why their President was talking about Armenians who died in 1915.
Even though President Erdogan was denying the genocide, but in the villages of Eastern Turkey/Western Armenia, an average nationalist Turk started thinking why his president gave that much importance to an issue that the state had been denying for 100 years. That same person started to think "there is really something in this." As it happened. There are more people looking for their roots, there are more people interested in factual history and denialists are losing their power in Turkish society.
4. In your opinion, what is the best method in gaining recognition of the Armenian Genocide in Turkey? Is it educating the average Turk or pursuing legislation in parliament or both?
The best way is to touch the souls of individuals, which Garo Paylan and Armenian activists did in Turkey. Some brave associations and journalists also attempt to do this. Turkey is an isolated country. It can look like a democracy, but it is not. It can look like a bit open, but the minds are controlled by a dictator who is losing control over his public day by day. So I have hope that we will win and I believe that you can't hide something by denying it happened. The educational system, which was created to miseducate people with revisionist history, is collapsing in the midst of the internet generation and the free flow of information from everywhere. Now from the Parliament for example.
5. As diaspora Armenians, what can we do to help advocate for the recognition of the Genocide as well as a formal apology from Turkey?
I don't believe we need an apology from Turkey. We need more acceptance.
Acceptance of existence, acceptance of struggle and we need to be respected to not give up on our nation even we were exiled from our motherland.
The best thing to do as Diasporans is to transfer our experience in politics and life to the new generations. To not let them forget their roots. Maybe one day they can forgive, even though they should not forget. That's how we can count on our traditions and identity. This will help for the recognition of the Genocide. It's maturity.
6. Do you think that Turkey will someday be a democratic nation? Will you and other journalists and authors who have fled Turkey return when the free speech laws are established?
Yes, I believe that. As I tried to explain before… Are we going to fly back one day? Yes. But under what conditions? I really don't know. For many of them the countries that they fled to became their new home. But there will be always a connection.