JERUSALEM — Armenian officials have sharply protested to Israel over its reported supply of weaponry to Azerbaijan after an Israeli-produced suicide drone deployed by Azerbaijani army killed seven Armenians last week, Haaretz daily reported Sunday.
A senior official in Jerusalem said the Armenian ambassador to Egypt, Armen Melkonian, who also serves as his country's ambassador to Israel, visited Israel last week. The official said Melkonian met with Dan Orian, a department head in the Foreign Ministry's Euro-Asian branch. Melkonian lodged a strong official protest to Orian over the incident and over the supply of Israeli weapons to Azerbaijan.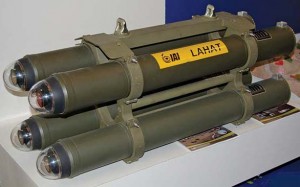 In a related development, on March 31, Israel provided Azerbaijan with its laser anti-tank missiles, according to the Voice of America Armenian (VOA) service.
Speaking to the VOA, Alexander Murinson from the Strategic Research Department of the Begin-Sadat Center for Strategic Studies within Bar-Ilan University of Israel said Azerbaijan has claims for a new role in the region, and it attempts to clarify its position on the Armenian forces in Nagorno-Karabakh. Also, he reflected on the sources of Azerbaijan's purchase of weapons.
"On March 31, Israel supplied laser anti-tank missiles to Azerbaijan," Murinson noted. "Azerbaijan is the first country to acquire these missiles, and this certainly has given an advantage to its military capabilities. Even though Israel does not officially support any side in the conflict, it obviously has close ties with Baku."
Robert Avetisyan, Permanent Representative of Nagorno-Karabakh to the US, also reflected on the supplying of military equipment to Azerbaijan. He noted that this fact has always been a concern for them, and that they have repeatedly called on all countries not to sell arms to Azerbaijan.
"These recent events [at the Nagorno-Karabakh conflict zone] have shown that the regional situation is very fragile, and that it can very easily lead to disaster and great tragedy."