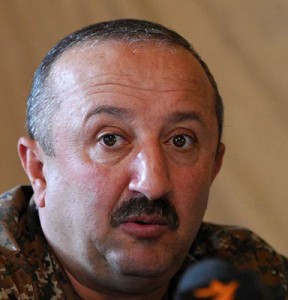 YEREVAN — According to a senior Armenian military official, the ceasefire agreement that halted heavy fighting in and around Nagorno-Karabakh last week was initiated by Azerbaijan.
"We should note that it was Azerbaijan, rather than the Armenian side, which made the ceasefire proposal by appealing to the chief of the Russian Federation's General Staff," General Movses Hakobian, a deputy chief of the Armenian army's General Staff, told RFE/RL's Armenian service (Azatutyun.am) in an interview.
"We must also conclude that once again the Armenian soldier again forced the enemy into a ceasefire," Hakobian stated.
The fighting broke out early on April 2 when the Azerbaijani army attacked Armenian positions at northern and southern sections of the Karabakh "line of contact." The large-scale offensive involving tanks, artillery and helicopters was unprovoked and aimed at seizing at least some territory in and around Karabakh.
On April 3, the Azerbaijani Defense Ministry said that it has "unilaterally suspended counteroffensive and retaliatory measures against the enemy." The Armenian side dismissed the claim as an "information trap."
The ceasefire agreed between the chiefs of the general staffs of the armed forces of Armenia and Azerbaijan in Moscow on April 5 put an end to the worst escalation of violence in the conflict zone since the 1994 truce.
Hakobian, who in the past also served as Nagorno-Karabakh's defense chief, said that he believed "the enemy will draw conclusions from its actions. If it again attempts to resolve the Karabakh conflict in such a way, our response will be tougher and stricter."
According to the senior military official, the Armenian intelligence had the relevant data on the Azerbaijani aggressive plans: "But the border of the Nagorno-Karabakh Republic is quite long and it was, of course, difficult to predict at what time and where the attacks would be launched."