YEREVAN — Armenia commemorated the 101st anniversary of victims of the Armenian Genocide as tens of thousands of people marched on Sunday to the hilltop Genocide Memorial at Tsitsernakaberd in Yerevan.
The annual day-long procession followed a prayer service led by Catholicos Garegin II, the supreme head of the Armenian Apostolic Church, attended by the leadership of Armenia, international guests, diplomatic representatives, Armenian nationals and Diaspora representtaives.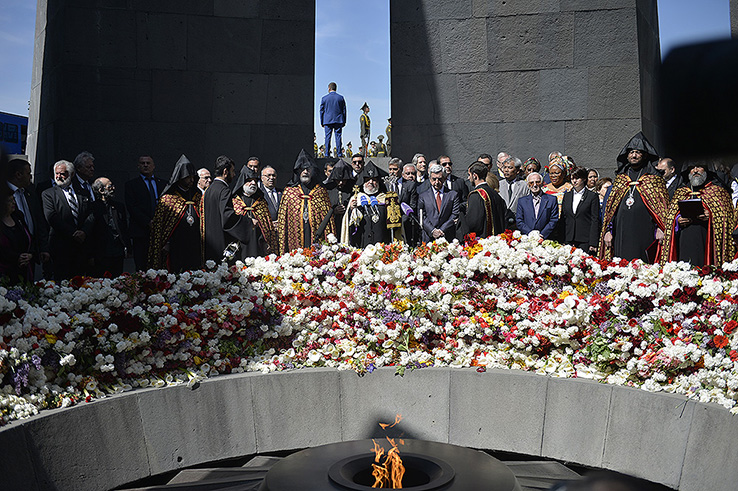 "More than a century has passed since the genocide," President of Armenia Serzh Sarkisian said in a written address to the nation. "What has changed? First of all, we have changed. We have been reborn as a nation and as a state. We have proved to ourselves and the world that the Turkish genocidal plans failed."
"What has not changed is Turkey's denialist stance and hostile attitude towards everything Armenian" he went on. "This is a direct continuation of the crime going on nowadays."
Sarkisian stressed at the same time that unlike Turkey's government and policy-makers, "the Turkish society has partly changed" with regard to the genocide issue. "Today it knows more about Turkish history than it did yesterday," he said. "Tomorrow it will know even more than it does today, unless, of course, they strangle free speech and media, shoot and arrest parliamentarians, public figures and editors."
Actor-Activist George Clooney, along with international dignitaries, attended the annual commemoration service at Tsitsernakaberd. Clooney wore the Armenian remembrance brooch — a purple forget-me-not flower — on his jacket.
The Oscar-winning actor called for greater international recognition of the Armenian genocide and said the 1915 slaughter of some 1.5 million Armenians is "also a part of the world's history" when he addressed an international conference on genocide prevention held in Yerevan on Saturday. "When someone is trying to annihilate a whole human race, culture, people, that's genocide, there can be no other version of it," he declared.
"I think it is ridiculous not to talk about it in terms of genocide, because, of course, it was," Clooney added in a clear reference to Turkey's continuing vehement denial of the Armenian genocide.