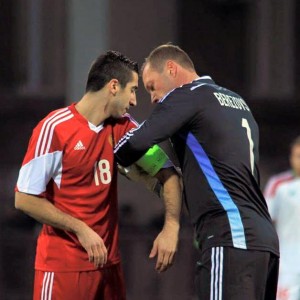 YEREVAN (Combined sources)– Goalkeeper Roman Berezovsky today bid farewell to the Armenian national football team. The legendary player featured in the starting lineup in the friendly against Belarus. He played for eight minutes and then handed the captain's armband to midfielder Henrikh Mkhitaryan. Berezovsky was replaced by Arsen Beglaryan. Armenia vs Belarus friendly ended in a 0-0 tie.
Roman Berezovsky made his debut in the Armenian national team on 31 August 1996 in the match against Portugal, participated in 93 matches for the team. The 41-year-old goalkeeper has become a truly popular figure in Armenian sports in the last 19 years. He decided to call it a career after the Armenia v Portugal game last June.
The Armenia-born and trained player performed numerous dramatic saves, earning a reputation of a reliable guard between the sticks.
Berezovsky, who also played for a number of Russian clubs during his career, today still holds the record of the USSR and Russian championships by the number of penalty kick saves. And shortly before announcing the end of his national team career, the veteran goalkeeper was one of only few players in the world to be still called for national duty at his age.
Berezovsky arrived in Yerevan for his farewell match on Thursday. The ethnic Russian player, who has stayed and played in Russia for years, said he has always considered Armenia to be his motherland.
"I have always come here because I love my motherland. This small country, its air are very dear to me. And the national team is the closest thing to me, something like a child to his parent," Berezovsky told local media, adding that his farewell match will be perhaps the saddest day for him with the team.