YEREVAN — Armenia's membership in a Russian-led trade bloc and Georgia's Association Agreement with the European Union can be used for deepening relations between the two neighboring states, Georgian Foreign Minister Mikheil Janelidze said during a visit to Yerevan on Friday.
Janelidze and President Serzh Sarkisian were reported to agree that Armenia and Georgia have a "great potential for developing bilateral cooperation also within the framework of those different integration processes."
"The two sides believe that this will elevate Armenian-Georgian relations to a qualitatively new level," Sarkisian's office said in a statement on the talks held by the two men.
Janelidze also discussed the matter at a separate meeting with his Armenian counterpart Edward Nalbandian earlier in the day. "We have talked about how we could use those integration processes to the benefit of our cooperation and joint projects," he told a joint news conference with Nalbandian.
"There are no problems between Armenia and Georgia," Nalbandian said for his part. "There are issues that are being solved with joint efforts."
The Armenian minister added that they touched, among other things, on possible joint projects on transport infrastructure, trade and energy. But he gave no details.
There was no word on ongoing negotiations between Armenia, Georgia, Russia and Iran on the possibility boosting power supplies among their countries. Top energy officials from the four states are due to hold further talks on the issue in Tbilisi next month.
Armenia and Georgia are due to construct by 2018 a new electricity transmission line that will make their power grids more interconnected. The $115 million project, is financed by Germany's state-run development bank KfW and the European Union.
Armenia is also building a similar line that will connect it to Iran.
Membership in the Russian-led Eurasian Economic Union (EEU) requires the Armenian government to adopt significantly higher duties for goods imported from outside the bloc. Many expected that this would lead to the abolition of Georgian-Armenian free trade arrangements, especially given Georgia's entry into a "deep and comprehensive free trade area" with the European Union.
However, Armenian officials said in late 2014 that Armenia has succeeded in convincing the other EEU member states to let it maintain the tariff-free regime with Georgia.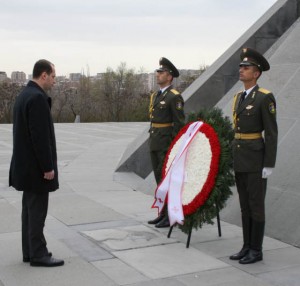 Georgian FM visits Armenian Genocide Memorial
Georgian Foreign Minister Janelidze also visited the Tsitsernakaberd Memorial and laid a wreath at the memorial to the Armenian Genocide victims and paid tribute to their memory with a minute of silence.
Deputy Director of the Armenian Genocide Museum Institute Suren Manukyan briefed Minister Janelidze on the tragic episodes of the Armenian Genocide, the history of construction and the architecture of the Tsitsernakaberd Memorial. Manukyan accompanied the Georgian Foreign Minister to the Memory Wall to introduce him to the humanitarian pages of the Armenian Genocide history.