GYUMRI — The Paros Foundation is pleased to announce that two families have become new homeowners through the Paros Foundation's Purchase a Home project. The Agayan and Hakopyan families of Gyumri were previously living in temporary shelters or domiks. In 2015, they were moved from these domiks into newly purchased apartments thus receiving a new start. To date, the Paros Foundation's Purchase a Home project has made home ownership a reality for four Gyumri families thanks to the generous support of our donors.
"There are many families like ours. I wish they would be fortunate enough to receive a home also. It is most important to not lose hope," said Kim Agayan on the night he and his family first learned they were chosen to be new homeowners. Mr Agayan left Sumgait, Azerbaijan following the Sumgait pogroms and moved to Gyumri. More tragedy followed when his apartment was destroyed in the 1988 Spitak Earthquake. He married, and he and his wife and three daughters lived in a domik until two anonymous donors from California stepped forward and sponsored the purchase of a new apartment.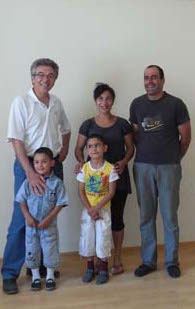 Earlier this summer, the Hakopyan family of Gyumri also received an apartment through the Purchase a Home project. "Hakop Hakopyan and his wife both grew up in domiks following the Earthquake, and their two sons will not have to endure the hardships they faced," said Peter Abajian, Executive Director of The Paros Foundation. While the Hagopyan and Agayan family stories have a happy ending, more than 2,700 poverty-stricken families continue to live in horrible conditions in temporary shelters and in condemned buildings.
The Paros Foundation has partnered with the Shirak Center, which identifies potential beneficiaries and works closely with Paros to transition these families into their new homes. Following a rigorous screening process to select the families, the Paros Foundation staff identifies suitable homes in the newly constructed Mush 2 Neighborhood of Gyumri. Each home cost on average $20,000 for a two-bedroom apartment and includes upgrades to make sure they are well appointed. At a minimum, families must demonstrate that they have the means to cover expenses associated with home ownership. "We make sure to the best of our ability that families are in a position to maintain their new homes," explains Pete Abajian. Agreements are signed passing ownership of the apartment to the chosen family, with the stipulation that until their youngest child reaches 18 years of age, the family cannot sell, rent or move.
As part of this agreement, families must surrender ownership of their old "domiks" which are then dismantled and thus ensuring that no one will ever live in them again. This mandatory component of the Paros Purchase a Home project helps us work towards the goal of ridding Gyumri of these terrible shelters. Wood taken from the salvage is distributed to other families to allow them to burn it for heating and cooking. The metal and other construction materials from the domiks are sold for scrap and above average wages are paid to those who work to tear them down.
The Paros Foundation underwrites all administrative expenses so that 100% of the donor contributions are allocated to the projects. To help support the purchase of home for another family in Gyumri, or another project of the Paros Foundation's Projects for Prosperity, please visit www.parosfoundation.org.