September 15 – November 5, 2011 the Garboushian Gallery will exhibit a collection entitled "California Armenian Pacific Standard Time". Planned artworks include pieces by John Altoon, Charles Garabedian, Leo Krikorian, Paul Sarkisian, Sam Tchakalian and writer/poet William Saroyan, among others. These artists will be featured not only because they are California Armenian Americans, but precisely because of the vital role they played and some still continue to play in defining Californian art, both at the aesthetic and institutional level, in the second half of the 20th century. "California Armenian Pacific Standard Time" is part of Pacific Standard Time, an unprecedented collaboration, initiated by the Getty, which brings together more than sixty cultural institutions from across Southern California for six months beginning October 2011 to tell the story of the birth of the L.A. art scene.
The Armenian Diaspora, comprised of immigrants and their descendants, is centered predominately in Los Angeles and the Central Valley regions of California and benefits from a confluence of unique influences on its art making tradition, including a history of social marginalization, individualistic resilience, and a strong cultural emphasis on the arts as a whole. The Garboushian Gallery's "California Armenian Pacific Standard Time" exhibition attempts to chronicle the post-war history of Armenian American art making through an interconnection of these individuals-some well known, some lesser known-and the exceptional work they have produced.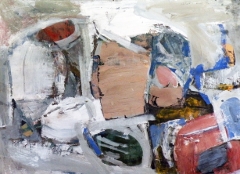 Just as Armenian American artist Arshile Gorky was highly influential in shaping American Abstract Expressionism in New York a generation earlier, a fiercely independent group of painters was quietly taking hold after World War II in Los Angeles; among them was John Altoon (1925-1969) and Paul Sarkisian (b. 1928). Altoon was a gifted painter and big personality who often struggled with fits of depression and mania. His vaguely figurative abstractions are heralded today for helping to define both a gallery-L.A.'s Ferus Gallery-and the city it occupied. Altoon was influential as both an artist and educator; he taught at Chouinard Art Institute (now CalArts) and Art Center College of Design, and attended both colleges as well as Otis Art Institute. Altoon's work is in major museum collections including the Smithsonian American Art Museum, National Gallery of Art, Hirshorn Museum and LACMA, among others.
Sarkisian's noteworthy international art career took root in Los Angeles in the mid-1950s, amid contemporaries John Altoon, Wallace Berman, Ed Kienholz, Walter Hopps and Irving Blum. Noted first for his abstraction and photorealism, and later for his finish fetish works, Sarkisian first showed at Walter Hopps' Syndell Studio which led to inclusion in Hopps' seminal 1955 Action exhibition (aka "The Merry Go Round Show" because it was staged within the carousel building on the Santa Monica pier), and later his Ferus Gallery. Sarkisian has exhibited his work at the Metropolitan Museum of Art, New York, Corcoran Gallery of Art, Hirshorn Museum, Whitney Museum, Chicago Art Institute, Museum of Contemporary Art Chicago (in which he was in a two person show with artist Chuck Close), Museum of Fine Arts Houston, the prestigious Documenta III (1964) and Documenta V exhibitions (1972), LACMA and the Pasadena Museum of Art, among others. Sarkisian now lives in Santa Fe, New Mexico.
Also central to the story about Los Angeles art is Charles Garabedian (b. 1923). Having started painting relatively late in life (he first began painting at age 32), Garabedian was first lauded for his work in the 1960s and is a highly celebrated artist who consistently receives well-deserved recognition as he continues to paint to this day. He recently closed a major retrospective at the Santa Barbara Museum of Art, and is included in public collections such as the Metropolitan Museum of Art (New York), Whitney Museum (New York), Corcoran Gallery of Art (Washington D.C.), LACMA, and MOCA. Garabedian's iconoclastic figurative paintings are precursors to, influences upon, and objects of affection for the generations of West Coast artists and collectors that closely follow him.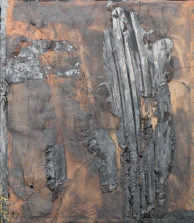 Meanwhile, outside of Los Angeles city limits, a number of other Armenian American artists were making their mark on California's blossoming cultural landscape. Sam Tchakalian (1929-2004) was a key figure in San Francisco Abstract Expressionism. Over the course of his career, he also explored Minimalism and a synthesis of Minimalism and Abstract Expressionism. Tchakalian has had solo exhibitions at the De Young Museum and SF MOMA, and his work is included in collections at MOCA, SF MOMA, the Whitney Museum, and Brooklyn Museum among others. Also, born in Fresno, William Saroyan (1908-1981) was best known as an acclaimed fiction writer and playwright, yet by the late 1960s he would try his hand at visual art too, with an exceptional body of abstract pieces to his name.
Leo Krikorian (1922-2005) was perhaps the most central, unifying figure of the arts at the time. Known as the "Grandfather of the Beats," (referring to the Beatnik movement of the 1950s, which gave birth to the hippie movement) Krikorian would indeed host important artists, writers, musicians, intellectuals and luminaries of the time (including Allen Ginsberg, Jack Kerouac, William S. Burroughs, and Dave Brubeck) in his café The Place in San Francisco's North Beach-however it was Krikorian's painting that warrants his inclusion in California Armenian Pacific Standard Time. A student of Josef Albers and Ilya Bolotowsky at Black Mountain College, Krikorian's masterful geometric abstractions offer a sterling example of West Coast Modernism-they strive eloquently for a universal minimalism while still retaining the loose exchange of colors, flavors and ideas that defines mid-century California.
California Armenian Pacific Standard Time will be on view at GARBOUSHIAN GALLERY from September 15 to November 5, 2011. The opening reception is Wednesday September 14, from 6 to 9 pm.