YEREVAN (Arka) — On June 4-5 two rural communities in Vayots Dzor Armenian province – Gomk and Martiros -will host the first eco-tourism festival, according to Vazgen Galstyan, the chairman of a public organization called Center for Jermuk Development.
Speaking to reporters today he said the objective of the festival is to promote community development and eco-tourism in Armenia.
He said a special tent camp with 120 tents will be set up for this event to accommodate the tourists who will also be delivered a series of lectures on first aid, protection of biodiversity, security and mutual assistance during hikes.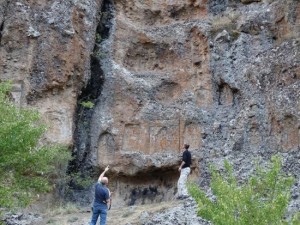 He said the preparatory work is already underway including adaptation of locals' houses for taking in some of tourists.
The vice-chairman of the Association of Young Biologists Sargis Aghayan added that the region was not chosen by chance, because these areas are very important in terms of conservation of biodiversity and are part of so-called eco-corridors for migrating animals, including the bezoar goat, Caucasian leopard and Armenian mouflon, all listed in Armenia's Red Book.
He also noted that the region is rich in various historical and cultural monuments, including the khachkars (cross stones) and a church carved into the rock.
"All the tourists will be able to feel themselves as part of the wildlife,' Aghayan said. According to him, it is expected that at least 500 tourists will take part in the festival
The tourists will be taken to the area free by special buses. They will need to pay only for accommodation and participation in all the stages of the event, which will cost 11,500 drams per participant (excluding food). ($ 1 – 491.60 drams)