LATAKIA — Armenian-populated town of Kessab in northwestern Syrian, which borders Turkey, received humanitarian aid packages from Russia containing food and medical supplies.
The packages, which are part of a Russian aid shipment were delivered by two Il-76 planes to to Khmeimim Russian airbase near Latakia.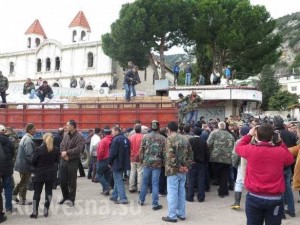 The cargo includes food, medicine, clothing, school supplies, as well as toys and treats for children. It will be distributed among residents of cities blocked by militants from terrorist organizations, such as Islamic State (ISIL).
In a statement to SANA news agency, Lattakia Governor Ibrahim Khodr al-Salem said the aid will be distributed to beneficiaries in a number of provinces, including eastern Deir Ez-zor.
He pointed out that work is being coordinated with local and international humanitarian organizations to deliver aid to those who need it in various Syrian areas.
Two years ago, the predominately Armenian-populated town of Kessab was attacked by the Jabhat al-Nusra and the Ahrar ash-Sham militants. At present, however, Syrian government army troops are deployed there.
According to Siege Watch, a joint initiative of the Netherlands-based aid group PAX and the Washington-based Syria Institute, there are well over 1,000,000 Syrians under siege in various locations in the country.