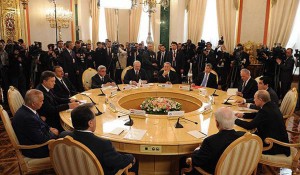 Putin Calls for Integration of the Former Soviet Space as Part of Commonwealth of Independent States
MOSCOW — Russia's newly appointed Prime Minister Dmitry Medvedev sounded optimistic about the future of his country's "special" relationship with Armenia as he met with President Serzh Sarkisian in Moscow late on Tuesday.
"First of all, I would like to welcome you and in my new capacity express confidence that we will continue good cooperation … especially given the special, allied relations between our countries," he told Sarkisian at the start of the meeting.
In televised remarks, Medvedev also congratulated Sarkisian on the landslide victory scored by the ruling Republican Party of Armenia in the May 6 parliamentary elections.
"I hope that it will be a necessary condition for the steady and productive development of Armenia as a state and, of course, the accomplishment of a large number of socioeconomic tasks set by you," he said. "Naturally, the Russian Federation will contribute to these processes by all means. We remain good friends and allies."
Sarkisian similarly said that Russian-Armenian relations will grow stronger after Vladimir Putin's return to the Kremlin and his replacement by Medvedev.
Sarkisian flew to Moscow to attend an informal summit of the Commonwealth of Independent States (CIS) and and the summit of the Collective Security Treaty Organization (CSTO). He held no separate talks there with Putin, who was inaugurated as Russia's president last week.
During these summitts, Vladimir Putin voiced the priorities of Russia's foreign policy among which the first were the integration of the former Soviet space as part of the CIS and the CSTO and the prospect of establishing a Eurasian Union. Putin does not hide that this union is an attempt to recreate the Soviet Union.
"I want to reiterate that the countries of the Commonwealth are our most intimate – in the true sense of the word – strategic partners. Virtually all aspects of interaction with you are vital for our country," said Putin, making opening remarks at the CIS summit.
Russia may manage to "convince" Armenia not to develop too deep integration processes with the European Union by means of another loan.
Another argument in favor of Armenia's integration in the post-Soviet space is its membership in the CSTO. The leaders of this six-member defense alliance adopted a declaration that reflects their collective approach to key issues of international security, said President of Kazakhstan Nursultan Nazarbayev at the enlarged meeting of the CSTO summit.