NEW HAVEN, CT – "Bearing Witness to the Lost History of an Armenian Family through the Lens of the Dildilian Brothers" – an exhibition of photographs and text – will be on display in the Lyman Center Lobby Gallery at Southern Connecticut State University from Sept. 10 to Oct. 18. The images, from SCSU Philosophy Professor Armen Marsoobian's extraordinary family collection, tell the story of his family against the backdrop of events that included a war that ravaged the world and a collapsing empire.
At the exhibition's opening reception on Sept. 10 from 5-8 p.m., SCSU President Mary A. Papazian will present the SCSU President's Medal to special guest Ruben Mirzakhanyan, rector of Armenian State Pedagogical University after Khachatur Abovyan, in recognition of his commitment to enhancing the quality of education in Armenia by establishing international exchange partnerships with Southern and other institutions in Europe and beyond. Since 2003, Mirzakhanyan has been the president of the Central Board of Tekeyan Cultural Center of Armenia and in 2009, he received the honorary title of Merited Personality of Culture of Armenia for his contribution to the development of culture. He is a member of the General Board of the World Armenian Congress.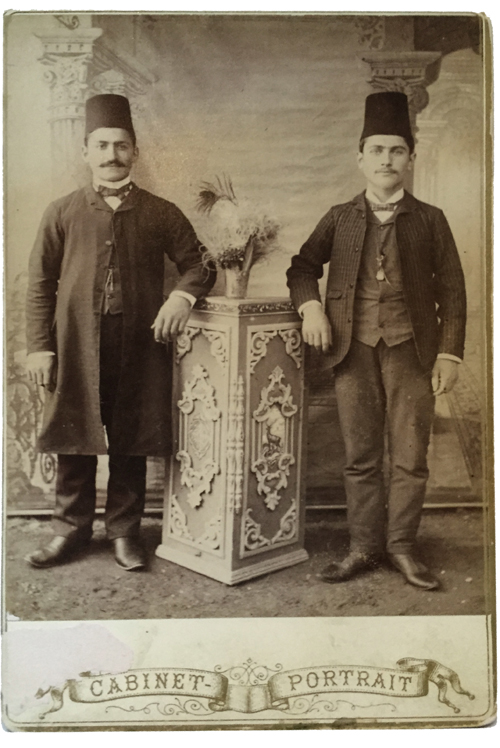 Marsoobian's grandfather and great-uncle, Tsolag and Aram Dildilian, were photographers employed both by Anatolia College in Marsovan, a town in Ottoman Turkey, and the local government. From 1890 to 1922, Tsolag was a significant photographer in the region where the family resided. A large collection of photographs and glass negatives came down to Marsoobian from his "family of many photographers," and he now possesses well over 900 photographs from the Dildilian brothers' collection, many of which date from the period 1888 to 1922, which encompasses the years of the Armenian Genocide (1915-1922). In April, Marsoobian published a book, Fragments of a Lost Homeland: Remembering Armenia, based on the photographs and two family memoirs, as well as family letters and diary entries.
Marsoobian has written a prize-winning essay dealing with the efforts of his grandfather and great-uncle in rescuing 30 young men and women in the period 1915 to 1918 in their hometown of Marsovan. He has also lectured on the photography collection in Armenia, Europe, South America and the United States.
The exhibit, which has previously been shown in Marsovan and in Istanbul and Diyarbakir, Turkey , has received a great deal of international press coverage. This fall, the exhibit will travel to The Wiener Library for the Study of the Holocaust and Genocide in London; and to exhibition spaces in Ankara, Turkey; Yerevan, Armenia; and Watertown, Mass.
Marsoobian will sign copies of his book at the reception, and copies will be available for purchase. For more information about the exhibit or the reception, which are free and open to the public, call (203) 392-6589