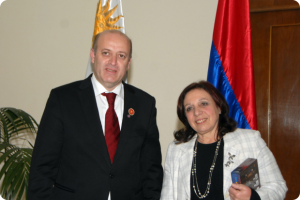 One of the central squares of the Uruguayan capital Montevideo is designated Plaza Mateós "Paramaz" Sarkisian. The square, a few blocks south of the Armenian Genocide Square, was designated Plaza Mateós Sarkisian "Paramaz," in accordance to decree No. 35.737 of the Junta Departmental de Montevideo (Montevideo City Council). The Montevideyan City Council emphasized the remembrance of prominent Armenian national liberation movement Leader, Mateós "Paramaz" Sarkisian, and his 19 fellow Armenian martyrs who were hung in Sultan Bayazid Square; the central square of Constantinople.
The twenty executed Armenians were members of the Social Democrat Hunchakian Party, which at its 7th General Convention, stressed their concern of the Young Turk government's blatant disregard of Armenian lives, implementing a policy based on forced assimilation and the utilization of pan-Islamic and pan-Turkic ideas to rile Turkish peasantry against other ethnicities and ideologies as it suited their purposes.
Thus the SDHP 7th General Convention adjourned with two main objectives:
• First – The party was to move from authorized to illicit activities, thus becoming once again a covert organization to safeguard its structure and objectives.
• Second – The Central Committee was authorized to organize and implement the elimination of the Young Turks leaders, specifically Talaat, the chief architect of what would be the Armenian Genocide.
Nonetheless, the SDHP Central Committee was determined to pursue the search for peaceful solutions, if and when possible, especially with the Turkish and Kurdish populace of the Ottoman Empire.
Unfortunately, these objectives were leaked to the Young Turks by an Armenian agent spying for the Turkish government. Hundreds of party members were arrested and tortured for many months. When the mock trial began, however, the number of those accused was 23 including 2 who were tried in absentia.
On the morning of June 15, 1915 before dusk, all twenty men were hanged in Sultan Bayazid Square; the central square of Constantinople. The destiny of the Twenty Martyrs was intertwined with the destiny of the Armenian nation. They knew what was coming and sounded the alarm but they were betrayed by a fellow Armenian.