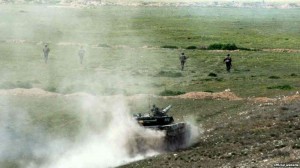 STEPANAKERT — Nagorno-Karabakh's armed forces wrapped up on Thursday three-day military exercises which demonstrated their "adequate preparedness" for a possible war with Azerbaijan.
The Karabakh Defense Army said the "battalion-level tactical exercises" were watched by its commander, Lieutenant-General Movses Hakobian, and involved "different types of troops," military hardware and live gunfire. It did not specify the number of soldiers participating in the drills and their venue.
"The holding of such war games is aimed at boosting tactical skills of participating personnel and enabling the latter to practice defensive and counteroffensive combat operations," the army said in a statement. The Karabakh Armenian forces again showed that they can accomplish "any combat objective," it said.
A spokesman for Karabakh president Bako Sahakian said the army holds such exercises on a regular basis and they are all planned in advance. "Such events demonstrate to Azerbaijan and other states that the Republic of Artsakh is ready to defend its territorial integrity, freedom and independence".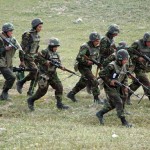 The latest exercises began on Tuesday amid Azerbaijan's renewed threats to end the Nagorno-Karabakh conflict by force. Azerbaijani Defense Minister Safar Abiyev said Armenia is precipitating a new Karabakh war with its refusal to "return Azerbaijan's occupied lands."