PASADENA — Summer 2015 marked another successful campaign for the Land and Culture Organization (LCO)/Organisation Terre et Culture (OTC). LCO/OTC completed another project with the consecration of a 7th century monastery in the Shirakamut village in the northern Lori region, near the 1988 earthquake epicenter of Spitak. LCO/OTC celebrated the completion and consecration of Tchkhanavank, a historical site that was discovered hidden under a hillside. LCO/OTC launched this project in 2008 and completed the final phase with ten volunteers from OTC-France this August. The reconstructed church, now renamed Sourp Khatch (Holy Cross) was blessed on August 22nd by Archbishop Sebouh Chouldjian of the Gougak Diocese. Present at the ceremonies were Board Members from Europe and America, Kegham Kevonian and Aram Gazarian of OTC-France, Haig and Hilda Manjikian LCO-USA, Nazaret Kevonian of LCO-USA, project architect Stepan Nalbandian of LCO/OTC Armenia "Yergeer Yev Meshagiut", along with LCO/OTC volunteers and members. Also present were Lucine Kassarjian and Arthur Harutyunian of the Armenian Tree Project (ATP) Armenia Office. ATP participated in the ceremony by planting decorative trees near the church site. Over two hundred guests, including Governor of Lori Region Artur Nalbandyan, mayors from surrounding villages, and local Shirakamut villagers attended the ceremonies. It was an emotional moment for all present following the culmination of years of hard work by volunteers and local craftsmen.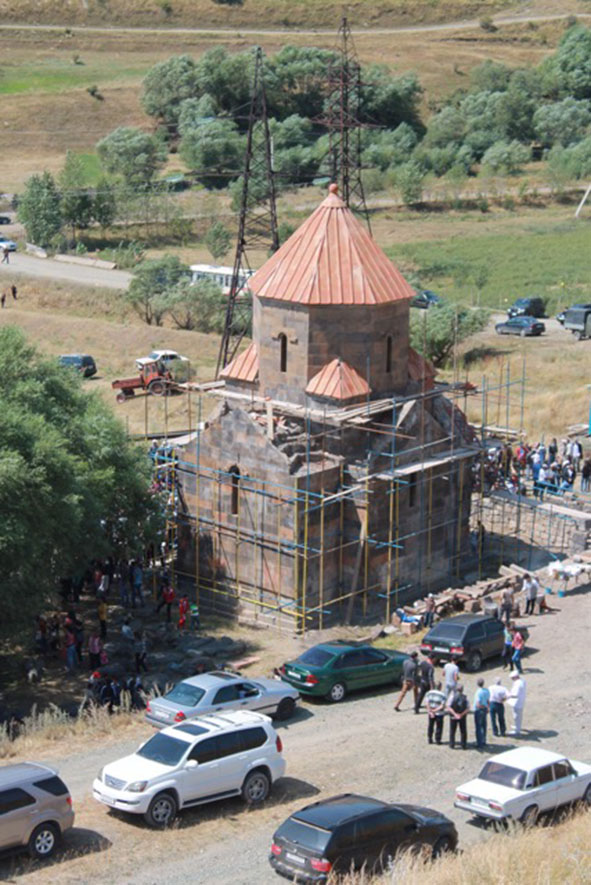 In addition to the consecration of Sourp Khatch church in the north, LCO-USA continued work on another project in southern Armenia. This year's campaign brought eleven motivated volunteers from the United States and Australia to spend three-weeks in the Syunik region, rebuilding a 17th century historical site. This was LCO/OTC's third year working on Sourp Stepanos Church in Shikahogh village, which is located adjacent to the Shikahogh Forest Reserve 20 miles south of Kapan. "It was incredibly exciting and rewarding to work on this site" said one of the volunteers. "We did a little bit of everything from making a clear path around the entrance, fixing the roof, rebuilding the alter and more."
The five-hour workday packed with physical labor participating in the renovation of this Armenian church is just one part of the LCO/OTC experience. Volunteers live in a very modest village home and spend non-working hours bonding with village residents, while enjoying local activities and their surroundings. "We played soccer and hung out at swimming holes with local kids, visited family homes for tea, and befriended veterans who showed us their battle wounds and told us (Karabagh) war stories" said veteran volunteer Lori Pogarian. "Our favorite is the village "discotec" – a simple auditorium with a boom box where around 20 local kids go dancing every night." In addition to experiencing village life, the volunteers go on excursions of Armenian historical sites.
For over 38 years, LCO/OTC has been one of the earliest volunteer groups in Armenia and Karabakh working to restore, renovate, and rejuvenate the historical monuments and sites of our nation. It has performed this mission through its summer campaigns, by volunteers of every age from the Diaspora and Armenia. To learn more about LCO or join in our summer volunteer program, you may reach us at www.lcousa.org.