YEREVAN — A commercial bus en route from Moscow to Yerevan, the capital of Armenia, capsized in the small hours of Tuesday 221 km south of Moscow, TASS reports.
At least eight Armenians were killed and 42 others injured, the press service of the Tula regional main department of the Interior said.
Citing authorities in Russia, Armenia's Ministry of Emergency Situations said that 34 of the injured passengers were rushed to hospitals in nearby Russian towns. "According to doctors' evaluation, nine of the injured persons are in a severe condition," the ministry said in a statement. "There were no children on the bus."
The accident occurred at the 221st kilometer of the M4 Don federal road at around 02:40 Moscow Standard Time on Tuesday. The bus was carrying 59 passengers aboard, Andrey Yartsev, a duty spokesman for Tula regional Interior Department told TASS. The bus belongs to an Armenian transport company King Deluxe.
The RIA Novosti news agency cited Russian police officials in Tula as suggesting that the Chinese-made Higer bus may have broken down during a Moscow-Yerevan service. They also did not rule out the possibility of the bus driver having fallen asleep at the wheel.
"The bus was moving in the southward direction," Yartsev said. "For the reason that's yet to be established it began to waggle from one guardrail to another over a distance of about 200 meters and eventually tumbled on the right board."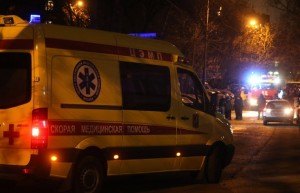 The regional division of the Ministry for Emergency Situations and Civil Defense dispatched a group of operatives to clear out and coordinate the situation.
Andrey Yartsev did not rule out, however, that the number of the injured might grow eventually.
The driver was not injured but was in a state of shock and unable to give any explanations for or details of the accident.
President Serzh Sarkisian, meanwhile, offered his condolences to the victims' families in a special statement issued later on Tuesday. "Our people, each of us, suffered a great loss last night," he said.
Sarkisian said he has instructed Armenian law-enforcement officials to identify the causes of the accident jointly with their Russian colleagues. He said he has also told "relevant bodies" to come up with a set of measures that will "substantially increase" the safety of international bus travel to and from Armenia.
It was announced afterwards that the Armenian government has formed an ad hoc interagency commission "in connection with" the accident. The commission headed by Transport Minister Gagik Beglarian was quick to hold its first meeting in Yerevan. Beglarian announced at the meeting that he will fly to Tula on Tuesday evening to "coordinate work on at the scene with Russian colleagues."