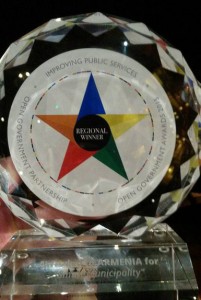 YEREVAN — Armenia has won a top prize at the Open Government Partnership's annual award event being held in Mexico City.
This year Armenia participated for the first time in the competition and won a top award among the countries of the Asian-South Pacific region. The ceremony was attended by President of Mexico Enrique Peña Nieto, who handed in the honorary award.
Armenia was awarded for the "Creation and introduction of community management and development-oriented information systems in regional administrations" initiative. A program referred to as "Smart community" (Smart Municipality) was presented to the jury. The program is meant to increase efficiency in the activities of Armenia's local self-governance authorities and improve public services based on the principles open governance.
This year's event, which opened on Thursday, addresses the mechanisms of improving public services through open governance principles. It attracted participation bids from 35 of the 66 members of the initiative.