A team of 40 scientists from various universities are set to conduct research to unearth the 5,000-year history of Van Fortress in southeast Turkey
VAN — Excavations around the ancient fortress in the southeastern city of Van in Turkey, led by the head of Istanbul University's Van Regional History and Archeology Research Center, Professor Erkan Konyar, have recently started to look into the site's 5,000-year history, Hurriyet Daily News reports..
A team of 40 scientists from 12 universities across Turkey will conduct research to unearth the history of the fortress, which had once overlooked the Urartian capital Tushpa.
Konyar said his team is due to work at three different sites near the fortress: The ancient Van city, the castle, and the castle mound.
"We are working in the old city of Van and the Van Fortress Mound. We most focus on protection and restoration work in the old city," he added.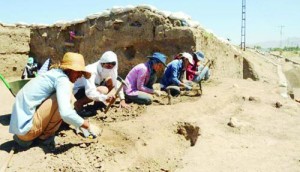 "An Ottoman texture of at least 800 years lies there, while the Van Fortress Mound includes the city's older layers. We can observe a process of nearly 5,000 years here. This is an Urartian neighborhood. In this area, there are Urartu houses with ovens, constructed next to each other and sprawling across a large area. We are working on a field where people lived in a traditional civilian architecture with floor furnaces, stone penthouses and barns, while some inhabitants worked in the service sector. So there are plenty of findings. Last year we found a tablet along with a number of ornaments," said Konyar.
The excavation head said the primary goal of works in Van aimed at revealing how the Urartu civilization was destroyed and who arrived in the region after the people of Urartu.
"The architectural factors in these era as well as the remains of people and the tools they used are being unearthed. We can find answers to all questions such as people's eating habits or the cause of their death," he added.