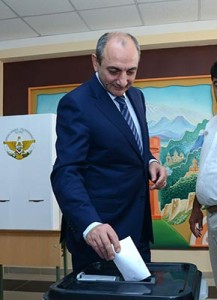 STEPANAKERT — Preliminary results show the Incumbent president of Nagorno Karabakh Republic Bako Sahakian, has won the presidential election staged on Thursday. The results show Sahakian winning by 47,085 votes (66.7 percent).
Runner up General Vitali Balasanian got 22, 966 votes (32.5 percent). Arkadi Soghomyan received 0.8 percent or 594 votes.
The voting turnout reached over 73 percent. All in all, 72,833 people out of the country's 98,909 registered voters casted their ballots.
The voting process was overseen by more than 60 monitors from Russia, Armenia the United States and other countries.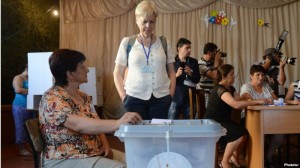 Azerbaijan has condemned the poll as "illegitimate" and warned of repercussions against foreigners who came to the territory to observe the voting.
Despite the fact that Baku and Ankara made rather critical statements that they do not recognize the elections, the co-chairs of the OSCE Minsk Group have issued a statement on the conduct of the presidential elections, acknowledging the need for the country's authorities to try to organize democratically the public life of their population with such a procedure. They note, however, that none of their countries recognizes Nagorno-Karabakh as an independent and sovereign state.
The co-chairs stress that the procedures of July 19 in no way prejudge the final legal status of Nagorno-Karabakh or the outcome of the ongoing negotiations to bring a lasting and peaceful settlement to the Nagorno-Karabakh conflict.