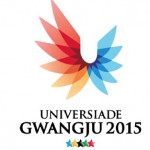 GWANGJU, SOUTH KOREA — Arthur Tovmasyan of Armenia has won gold in Gymnastics in the 2015 Summer Universiade being held in Gwangju, South Korea.
Tovmasyan outperformed all rivals in the competition on the rings, becoming champion of the Universiade.
Born 18 Jun 1992 in Yerevan, Tovmasyan is a member of the Armenian State Institute of Physical Culture.
A total of 12 Armenian athletes are competing in six sports (judo, gymnastics, fencing, tennis, swimming, taekwondo) in Gwangju. The Universiade will finish on July 14.