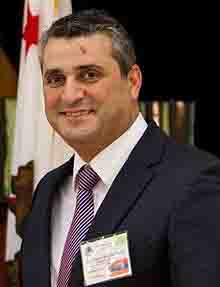 NEW YORK – New York City will host in inimitable Hye-fashion the Armenian Bar Association's 2018 Midyear Meeting with its feature presentation of a groundbreaking continuing legal education classic entitled "The StartUp Revolution: What Are Your Rights and How to Protect Them." The Association is most pleased to announce that the Honorable Grigor Hovhannissian, Ambassador of the Republic of Armenia to the United States, will undertake a significant role in the program by captaining a team of panel experts on "Challenges and Opportunities Facing Startups in Armenia."
The Association designed this inter-active program to advance Armenia's and its Diaspora's impressive and imperative initiative of expanding the young republic's footprint on the global technology terrain. The special assembly will bring together trailblazers in the fields of intellectual property law, technology, business, and government from the United States, Armenia, Russia and Australia, to share their knowledge and expertise with the startup ecosystems of Armenia and beyond.
Another major highlight of the weekend will be the luncheon keynote presentation of Robert Avetisyan, Permanent Representative of the Artsakh Republic to the United States. His address will focus on the key domestic and international issues facing the young Republic.
Three additional panels will highlight other aspects of the exciting and fast-developing tech economy: "Establishing and Growing Your Startup Practice," "How to Protect Your Intellectual Property," and "How to Protect Your Trade Secrets and Best Practices in IP Litigation." Specific information about these panels may be found on the Association website at www.ArmenianBar.org.
"Armenia's tech scene, and the people who populate it and expand its frontiers, have brought us to the most positive and promising of turning points and cutting edges, just as Armenia itself enters a new era of unbounded optimism and opportunity," stressed Souren A. Israelyan, Esq., a Co-Vice Chair of the board of the New York/New Jersey/Connecticut Chapter of the Armenian Bar Association and a member of the Midyear Meeting organizing committee.
The Midyear Meeting will take place in New York City on October 13th, 2018, at Columbia School of Law from 8:30 a.m. to 4:45 p.m. EDT. It will be preceded by a special visit to the Metropolitan Museum, where meeting participants will be treated to a private lecture and public tour of the new Armenia! exhibit, followed by a sumptuous reception at the Liederkranz Foundation. Additionally, three live webcast locations in Armenia have been secured in Yerevan, Gyumri and Vanadzor.
For information about the program or to register to attend in person in New York City, visit armenianbar.org/event/armenian-bar-midyear-meeting-new-york-city.
Armenian Bar Association: [email protected].
Local event contacts:
Souren A. Israelyan / (718) 751-5254 / [email protected]
Denise G. Darmanian / (212) 692-0872 / [email protected]