YEREVAN (RFE/RL) — Underscoring increased U.S.-Armenian military cooperation, an Armenian army platoon has joined thousands of soldiers from NATO member states, including Turkey, in conducting fresh U.S.-led exercises in Europe.
The 36 soldiers of a special Armenian peacekeeping brigade flew to Germany for that purpose late last week following a send-off ceremony attended by Richard Mills, the U.S. ambassador to Armenia. Mills shook the soldiers' hands as they boarded a U.S. military transport plane at Yerevan's Zvartnots airport.
The Saber Junction 15 exercises organized by the U.S. Army in Europe have brought together more than 5,000 soldiers from 15 NATO members as well as Sweden, Armenia, Moldova, and Bosnia and Herzegovina. They will take place in Germany, Lithuania and Romania until April 30.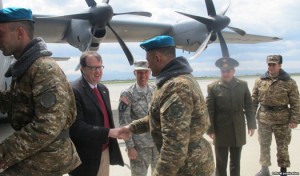 "Saber Junction 15 prepares NATO and partner-nation armies for offensive, defensive and stability operations and promotes interoperability among participants," the U.S. Embassy in Yerevan explained in a statement released on Monday. The drills are specifically designed to "train a brigade-level unit to operate with allied and partner nations as part of a combined force," it said.
"The joint Armenian-U.S. exercise is underwritten by a Memorandum of Understanding between the Armenian Ministry of Defense and the U.S. Army in Europe," added the statement.
Armenian soldiers reportedly took part in five U.S.-led military exercises last year. One of the drills took place in March 2014 at the U.S. Army's Camp Bondsteel in Kosovo where some 35 Armenian troops have been serving under U.S. command as part of KFOR, a NATO-led multinational force.
The Armenian military has increasingly participated in such exercises over the past decade in line with Yerevan's Individual Partnership Action Plan with NATO. The cooperation framework commits Armenia to contributing troops to NATO-led missions and implementing defense reforms meant to bring its armed forces into greater conformity with NATO standards.
As part of those reforms, U.S. military instructors have been helping the Armenian army increase the number of its non-commissioned officers serving on a contractual basis. About 50 Armenian sergeants underwent a weeklong U.S. training course near Yerevan in February 2014.