BAKU (RFE/RL) — The Baku bureau of Radio Free Europe's (RFE) Azerbaijani Service has been sealed shut following a surprise raid by investigators from the state prosecutor's office.
The investigators, who entered the bureau on the morning of December 26 accompanied by armed police officers, ransacked the company safe and confiscated computers and official stamps.
They also ordered staff members to leave the building, after holding them in a room for several hours without telephone or computer access.
Several staff members have since been summoned for questioning.
Prosecutors say the raid is part of an ongoing investigation into RFE/RL's Azerbaijani Service as a foreign-funded entity.
RFE/RL and its bureaus are funded by the U.S. government.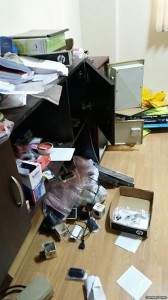 Kenan Aliyev, the director of the Azerbaijani Service, said the raid is part of an overall crackdown on free media in Azerbaijan.
"The operation of our bureau is paralyzed in Baku," he said. "There has been a long ongoing crackdown on the media and NGOs in Azerbaijan, including the arrest of Khadija Ismayilova, the host of our show and our contributor. We view this as part of this ongoing campaign against independent media."
The raid comes three weeks after Khadija Ismayilova, an investigative journalist and contributor to RFE/RL, was jailed in Baku.
Ismayilova is currently being held on two months' pre-trial detention on criminal charges of inciting a former RFE/RL contributor to attempt suicide.
Ismayilova's supporters have rejected the charges as spurious and motivated by her critical reporting on the Azerbaijani government.
Amnesty International has declared Ismayilova a prisoner of conscience, "detained solely for exercising her right to freedom of expression."
Aliyev says prosecutors have already attempted to use Ismayilova's arrest as a pretext for a broader crackdown on the Baku bureau, which remains one of the few independent media outlets in Azerbaijan.
The prosecutor's office on December 17 delivered a letter to the bureau requesting employment and salary information about both Ismayilova and the former colleague in question.
It also requested the names of all bureau employees, including freelancers, for possible questioning in connection with the case.
Ismayilova has published numerous reports investigating corrupt deals tied to Azerbaijani President Ilham Aliyev and his family.
Presidential chief of staff Ramiz Mehdiyev in early December issued a 60-page statement accusing Ismayilova of displaying a "destructive attitude toward well-known members of the Azerbaijani community."
Mehdiyev also accused RFE/RL's Azerbaijani Service of working "for a foreign secret service."
The crackdown on Ismayilova and the Baku bureau comes amid a sweep of arrests and closures that critics say are aimed at silencing antigovernment voices.
Azerbaijan is currently believed to be holding as many as 100 political prisoners, including Leyla Yunus, the director of the Institute of Peace and Democracy and one of the country's best known human rights activists.
Yunus, 59, and her husband, Arif, have both been held in pretrial detention since July and August, respectively, on charges of treason and other crimes.
Yunus, who suffers from diabetes and kidney disease, has complained of physical abuse and denial of medical treatment while in detention. Her lawyers say she is in dangerously ill health.
The West has criticized what is seen as a growing crackdown on government critics in energy-rich Azerbaijan.
U.S. Assistant Secretary of State Tom Malinowski told RFE/RL last week that Washington has been involved in "very serious discussions" with Azerbaijani officials about the recent detentions of the Yunuses, Ismayilova, and others.
Malinowski said U.S. officials have made it clear that Azerbaijan's relationship with the United States is "jeopardized by the crackdown on civil society."
WATCH: Tom Malinowski On Baku's Crackdown On Civil Society
In addition to arrests, Azerbaijani prosecutors have raided a number of so-called foreign entities, including nongovernmental organizations like IREX, the National Democratic Institute, and Oxfam.
All three NGOs were subsequently shut down. IREX, which operates in 125 countries promoting democratic reforms, became the latest to end operations in September after Baku authorities froze its bank assets as part of what prosecutors called a "criminal investigation."
RFE/RL editor-in-chief and co-CEO Nenad Pejic condemned the raid of the Baku office as a "flagrant violation of every international commitment and standard Azerbaijan has pledged to uphold."
"The order comes from the top as retaliation for our reporting and as a thuggish effort to silence RFE/RL," he added.
"This is not the first time that a regime has sought to silence us, and we will continue our work to support Azeris' basic right of free access to information and to report the news to audiences that need it."