FRESNO — Hundreds of people packed the outdoor ceremony at Fresno State on November 2 at 1:30 p.m. to mark the start of construction of the Armenian Genocide Monument, which will be completed in time to mark next year's 100th anniversary of the genocide. Religious leaders and members of the Armenian Genocide Centennial Committee of Fresno joined local politicians, Fresno State leaders and a multitude of community members at the event.
The Diocesan Primate Archbishop Hovnan Derderian attended the historic event. Also present at the groundbreaking ceremony was Mr. Berj Apkarian, the newly-appointed Honorary Consul of the Republic of Armenia in Fresno.
Fresno State President Joseph I. Castro spoke for the university.
"Our primary mission (at Fresno State) is education, which is also at the core of this project," Castro said. "We've had a rich history of involvement by Armenian students, faculty, alumni and friends — we wouldn't be a great university without them."
The primary message of the event was the importance of spreading awareness of the Armenian Genocide, which Fresno State Armenian Studies Coordinator Barlow Der Mugrdechian said killed as many as 1.5 million Armenians from 1915 to 1923. Der Mugrdechian said that on April 24, 1915, the Ottoman Turkish government began arresting and executing hundreds of Armenian religious, academic and political leaders.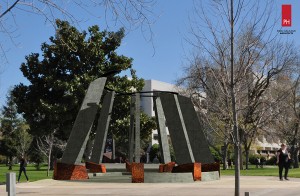 The stone-and-concrete monument will be dedicated on April 24, the 100th anniversary of the beginning of the genocide. It was designed by local architect Paul Halajian and will consist of nine pillars representing the six provinces of historic Armenia, Cilicia, the Diaspora and the Republic of Armenia. An incomplete halo will rest on top of the pillars, which is meant to symbolize both the damage left by the genocide and the unity of the Armenian people. It will be the first such monument marking the genocide on a U.S. college campus.
It will be located on the Maple Mall walkway just south of the Satellite Student Union on Fresno State's campus.