By Florence Avakian
WEILL RECITAL HALL AT CARNEGIE HALL, NY — The sixth annual Direct Help for the Armenian People (DHAP) concert which was dedicated to the 100th anniversary of the Armenian Genocide, took place on Saturday, October 11, at Carnegie Hall's Weill Recital Hall, featuring the Armenian Youth Talent finalists.
Opening the much awaited occasion, concert host Harut Minasian related the importance of next year's solemn commemoration, saying, Today, we are living proof of our strength and will to survive."
Lighting Up the Stage
Then it was time for the 31 young gifted musicians, from ages 10 to 18 to light up the stage and shine. Starting the recital were the eight young violinists of the Armstring Ensemble, including Zovinar Aghavian, Aren Arakelian, Arpie Bakchian, Anthony Degoyan, Nicolas Degoyan, Griifyn Kang, Lilit Kldjian, and Nicole Mark. They offered a poignant rendition of Komitas' beloved "Keler Tsoler". Later in the program, they played a rousing and well-synchronized "Asturias" by Albeniz.
Tinkling the ivories with impressive technique and expression were Nareg Balian, Alin Khrimian, Nicole Khrimian, Arianna Mesrobian, Kalina Mesrobian, Dimitri Shaposhnikov, Sophie Shchuchinov, Ani Tchorbadjian, Haroutyun Tiratsuyan, and Andrew Zeroogian Wu.
Khachaturyan was center stage as many of these gifted pianists presented some of his demanding and well-known compositions, including "Toccata", "Folk Dance", "Sonatina", "Dance of the Rose Maidens", and the melodically beautiful "Adagio" from "Spartacus.
Komitas and Khachaturyan were again the choices of several singers who also tackled with ease compositions by Berberian, Haroutunian, Offenbach, Spendiarov, displaying their excellent phrasing, and musicality. The performers included Zovinar Aghavian, Anja Avsharian, Nicholas Bompart, Finella Hesin, Sonya Hesin, Daniel Manucharian, Anna Mehrabyan, Julia Naldjian, and Serena Tchorbadjian.
Laura Navasardian who confidently strode on stage carrying her cello which was bigger than her, delighted the audience with "Etude Concentranto" by Ayvazyan. Flutists Arya and Sareen Balian showed their musical fluency in compositions by Khachaturyan and Djerbashyan. And Andrew Eurdolian displayed his technical expertise and lyrical intonation in Mozart's lengthy and demanding "Allegro Aperto".
Following the presentations of these young talents which were met with a standing ovation by the audience, each young performer received a certificate, and a monetary gift from the AGBU in recognition of their special contribution.
The judges of the 2014 DHAP auditions included Director of the St. Vartan Cathedral Choir Khoren Mekanejian, baritone soloist Vagharshag Ohanian, composer and pianist Karen Hakobyan, pianists Lucine Badalyan and Karine Poghosyan, and violinist Diana Vasilyan.
In the program brochure, messages of congratulations were addressed by Armenian Diocesan Primate Archbishop Khajag Barsamian, Prelate of the Armenian Prelacy Archbishop Oshagan Choloyan, Armenia's Ambassador to the United Nations Zohrab Mnatsakanyan, Armenian General Benevolent Union (AGBU), Tekeyan Cultural Association, Hamazkayin Armenian Educational and Cultural Society, and Metropolitan Opera Diva Lucine Amara, and renowned pianist and composer Sahan Arzruni.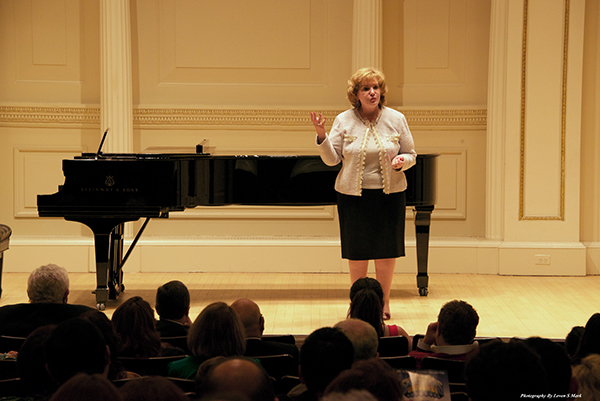 No Oil, But Plenty of Talent
In her inspirational message, Dr. Svetlana Amirkhanian, dedicated and tireless President and Founder of Direct Help for the Armenian People (DHAP), related, "Especially this year, part of our heart is crying for our lost Armenians, and part is joyous for our talented youth. We Armenians don't have oil, but we have wonderful talent as you have seen tonight."
She paid tribute to the "great help and contribution" of Marina Bagdasarova, and introduced Armenia's Ambassador to the United Nations Zohrab Mnatsakanian.
The Armenian diplomat said he was "moved to see the young talent demonstrated through the power of music which has always kept, and continues to keep our spirit and integrity high."
The Ambassador then presented the Naregatsi Medallion and certificate for outstanding contribution to Armenian culture to well-known baritone soloist Vagharshag Ohanian who has been instrumental in forming and conducting adult and children's choral groups, as well as a young instrumental ensemble. Ohanian who has performed on several international stages, including Avery Fisher Hall, Carnegie Hall, also has received a degree of Professor from the International Academy of Education from Yerevan's Haybusak University.
In his message, Vagharshag Ohanian expressed his deep appreciation, and noted that the award "will make me work harder." Then with obvious emotion, he said, "This medal belongs to my parents and teachers."
Among the major philanthropists who supported this year's Direct Help for the Armenian People concert were Artemis Nazarian, the AGBU, an Anonymous Donor "in honor of talented children who support and love the Armenian culture", and Edward and Carmen Gulbenkian "for the talented young musicians, some of whom have had grandparents or great grandparents perish during the Genocide, and who performed in their eternal memory, preserving the endurance of the Armenian nation and culture."