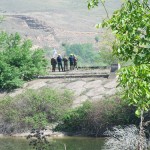 YEREVAN — Field representatives of the Organization for Security and Cooperation in Europe visited on Monday a western section of Armenia's border with Azerbaijan where three Armenian solders were killed last week.
The four OSCE representatives monitored the ceasefire regime there from either side of the heavy militarized frontier. No shooting incidents occurred during the procedure.
The OSCE Chairman-in-Office field assistants Hristo Hristov and Irji Aberle inspected the scene of the incident, and subsequently the aforementioned vehicle kept at a Military Police department. The car riddled with bullets was examined and photographed by them . The Armenian Ministry of Defense representatives informed the field assistants that the attack was preceded by the flights of an Azerbaijani unmanned aerial vehicle (UAV). The UAV was made in Israel.
Armenian military commanders on the ground said the contracted servicemen — Aram Yesayan, Arshak Nersisian and Davit Abgarian — died in an ambush attack carried out by Azerbaijani troops.
President Serzh Sarkisian and the Defense Ministry in Yerevan have also effectively blamed Azerbaijan for the deaths. In a weekend statement, the ministry reaffirmed Sarkisian's pledge that "the enemy will not remain unpunished."
"Without succumbing to the enemy's provocations, Armenian Armed Forces will carry out actions commensurate with the situation along the entire Line of Contact," it said without elaborating.
Andranik Mkrtumian, a senior official from the army's General Staff, told the OSCE monitors that a total of five Armenian soldiers have been killed and seven others wounded along the entire Tavush section of the border so far this year.
The monitors also visited on Monday the border village of Dovegh that reportedly came under automatic gunfire from nearby Azerbaijani army positions last Wednesday. The village's kindergarten was evacuated as a result.