YEREVAN — Thousands of people have gathered in the Armenian capital to protest against the government in the largest such demonstration in years.
Friday's rally in Yerevan's Freedom Square brought together three of the country's parliamentary opposition parties and followed a series of smaller demonstrations over the past two weeks in cities across the country.
In between speeches by party representatives, protesters chanted "Serzh, leave," calling on the country's president, Serzh Sarkisian to quit.
In his speech at the rally, former president Levon Ter-Petrosian leveled harsh criticism at Sarkisian, saying that today is the "most opportune moment for getting rid of this government". Responding to "Now", "Now" calls from the crowd demanding immediate action, he warned, however, that the scheduling and pace of further steps must be decided exclusively by the leaders of the parties who have put themselves at the head of the struggle.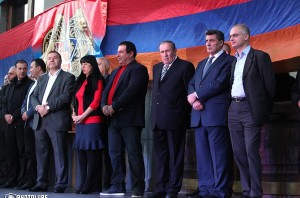 According to Ter-Petrosian, the roadmap to a complete power change – implemented through "stage-by-stage" or "package" options – will be presented at the next rally. He, however, did not indicate the dat of the next gathering, saying that they will inform the public about it "within the next two or three days".
Raffi Hovannisian, the chairman of the Zharangutyun (Heritage) party respectively, attacked Sarkisian in especially strong terms, calling for his resignation.
But Gagik Tsarukian, the chairman of Prosperous Armenia Party (BHK), delivered a much shorter and more ambiguous speech. He said he will speak at greater length at their next anti-government rally. Other speakers said the opposition trio will set a date for it early next week.
Speakers at the rally pointed out the failures of the government that they claimed has not been capable of solving people's social and economic problems, they also spoke about the large scale of out-migration, poverty, corruption, falling investments, faulty legislation hampering the development of small and medium-sized enterprises, other concerns.
Members of the opposition parties agreed that the government has failed to meet the set of demands issued back in June. They also criticized the government for its intention to reform the Constitution. While considering such a reform to be a lesser priority than solutions to more vital issues like emigration, economy, social security, most opposition groups also fear that by turning Armenia into a parliamentary republic President Sarkisian and his ruling Republican Party effectively seek to perpetuate their power after the end of Sarkisian's second and final term in office in 2018. Sarkisian himself and his political allies have denied having any such designs, declaring that the reform is needed for the country's further democratization.