Children from the Yerevan Children's Home feeding the animals at the Yerevan Zoo
YEREVAN — This summer, with the support of several donors, The Paros Foundation hosted several daytrips for over 120 children from three of Armenia's orphanages. Children from the Yerevan Children's Home and the Gavar Orphanage were treated to a day at the Yerevan Zoo, while children from the Kharpert Home For Special Children spent an afternoon at Victory Park. Project donors, several volunteers and the SERVICE Armenia 2014 group were responsible for helping plan and execute these fun and exciting trips.
"Spending the day with these amazing children and helping to put a smile on their face was truly an humbling experience," said Laura Conrow, whose family both sponsored and participated
The children at the zoo spend hours feeding and admiring the animals, while the children at Victory Park enjoyed the rides, as they as they played and danced with their new friends. Both groups had a short break for lunch and refreshments.
To date, The Paros Foundation has successfully organized a total of nine orphan excursions in Armenia since 2011. Through this project Paros helps these children not only receive much needed social interaction, but also helps ensure they have a fun and memorable experience. Orphanages in Armenia do their best to provide children with basic care and necessities, but limited funding does not allow them to frequently plan outside visits to museums and amusement parks, and participate in extracurricular activities.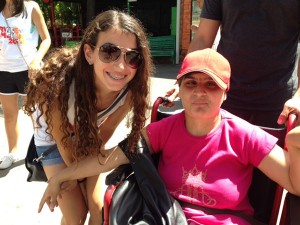 "With projects such as these excursions, we can help bring more awareness regarding the high number of orphans and orphanages that still exist in Armenia, " said Peter Abajian, Executive Director of the Paros Foundation. " We all hope that one day Armenia will no longer need orphanages, but until that day comes, we should all do what we can to lesson the emotional struggles these children live with every day."
A video release about this project can be found on the Paros Foundation website at www.parosfoundation.org.
The Paros Foundation underwrote all administrative expenses associated with these excursions allowing all contributions to be allocated 100% to these projects. Donations to The Paros Foundation, a 501(c) 3 organization, are tax-deductible to the fullest extent allowed by law. The Paros Foundation would like to thank the following sponsors for making these excursions possible:
Chris & Lena Adishian
Catherine & Lauren Conrow
Adam & Rita Kablanian "In Memory of Angela Varderesyan"
Keith & Heghnar Watenpaugh
In addition, we would like to express our gratitude towards the staff and administration at both the Yerevan Zoo and Victory Park for their continued support and accommodation.
Formally launched in 2006, The Paros Foundation supports six exemplary local NGOs in Armenia and launched the Paros 100 for 100 Projects for Prosperity in October of 2011 to commemorate the upcoming centennial of the Armenian Genocide. With an aggressive goal of identifying, vetting, fundraising for and ultimately implementing 100 special projects, The Paros Foundation and its staff in Armenia and the United States are quickly earning a reputation as the "go to" organization to oversee small and medium-sized project implementation in Armenia. For more information and to get involved visit www.parosfoundation.org or call (310) 400-9061.