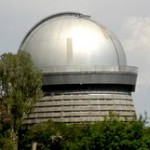 YEREVAN — The Byurakan observatory, Armenia, will soon get an automatic telescope, Vazgen Gabrielyan, a senior student at the Physics Department, Yerevan State University, who works as engineer at the Byurakan observatory, told Armenian News-NEWS.am.
"The telescope will focus itself on stars and follow their path. A computer program for the Schmidt telescope will soon be ready," he said. Gabrielyan pointed out that young engineers plan to create programs for other telescopes as well.
The Byurakan observatory is a member of the International Virtual Observatory Alliance (IVOA).
Areg Arakelyan, Senior Researcher, told Armenian News-NEWS.am that effective operation of the telescope requires the purchase of a modern light detector, which costs U.S. $100 to U.S. $120 thousand. "The sum is equal to the Byurakan observatory`s annual budget," he said.