YEREVAN — Armenia warned Azerbaijan to de-escalate the situation in the Karabakh conflict zone or face a "further toughening of punitive measures" taken against the Azerbaijani army.
Armenia's Defense Ministry on Saturday blamed Azerbaijan for the intensifying ceasefire violations and said they are threatening to degenerate into an all-out Armenian-Azerbaijani war. A ministry statement urged Baku to "refrain from steps further escalating the situation" and to respect the ceasefire regime.
"In case of the continuation of Azerbaijani actions heightening existing tensions, the Armenian military will have to further toughen punitive measures against manifestations of reckless vengeance ordered by the leadership of the Azerbaijani Defense Ministry," warned the statement.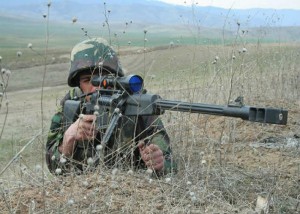 "Baku continues to grossly violate the ceasefire agreements from May, 1994 and February, 1995, ignore the calls of the Heads of the OSCE Minsk Group Co-Chair countries to refrain from provocative actions and from the escalation of the situation, and the appeals of the international community that through the use of force the conflict can not be resolved , and that only through negotiations stability and peace can be achieved. The recurrent adventurism of Baku pursues an aim to undermine the negotiation process," Armenian Foreign Minister Edward Nalbandian said in comments to Armenpress.
"Being the initiator and instigator of the provocations, Azerbaijan is trying to put their responsibility on the other sides. However, it is obvious that by rejecting the proposals of the international community on the establishment of a mechanism of investigation of incidents, Azerbaijan is assuming the whole responsibility for the ceasefire violations," Minister Nalbandian said.
"It is high time for the international community to sober the Azerbaijani leadership, which has lost the sense of reality and is going against the value-system of the international community," he added.
"Together with the Co-Chair countries Armenia will take the necessary steps for halting the provocative acts, for the stabilization of the situation, for continuation of the negotiation process aimed at the settlement of the conflict exclusively through peaceful means." Minister Nalbandian concluded.