YEREVAN — The Armenian National Assembly on March 2 elected Armen Sarkissian as the country's next president.
Ninety lawmakers voted in favor of the 64-year-old Sarkissian, a former prime minister and currently the country's ambassador to the United Kingdom; 10 voted against; and one lawmaker abstained.
"I want to thank those who voted for me and those who voted against me," he said. "I will invest my long experience and knowledge and my entire energy in properly performing the duties of Armenia's president and properly serving the Republic of Armenia, its citizens and our people."
"And I certainly expect your and our citizens' support for and participation in our future important victories," added the president-elect.
Sarkissian will assume his duties at a special sitting of the National Assembly on April 9.
Current president Serzh Sarkisian nominated Armen Sarkisian as the ruling Republican Party's pick for president on January 19.
Following a referendum in December 2015, Armenia changed its form of government from a semipresidential to a parliamentary republic.
As a result, presidential veto powers are being stripped from the post and the presidency is being downgraded to a figurehead position elected by parliament every seven years rather than a direct popular vote.
The constitutional reforms coming into effect also limit an Armenian president to a single seven-year term.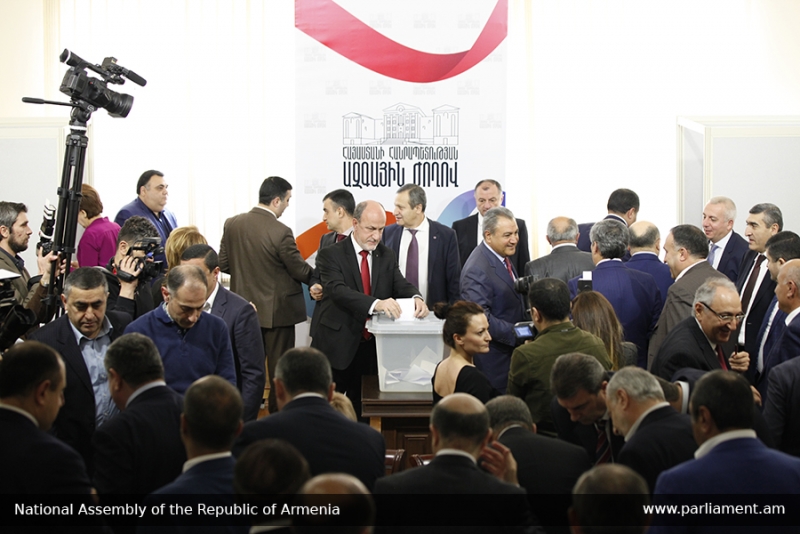 Born in Yerevan on June 23, 1951, Armen Sarkissian graduated from the Yerevan State University (Department of Theoretical Physics and Mathematics).
Dr Sarkissian is Vice Chairman of East West Institute and holds honorary and executive positions in numerous international organisations, including Member of Dean's Advisory Board, Kennedy School of Government, Harvard University; Dean's Advisory Board, Harris School of Public Policy Studies, University of Chicago; Board Member of IREX; International Economic Alliance; Global Leadership Foundation (headed by former President of South Africa F. W. De Klerk) and Honorary Senior Research Fellow at the School of Mathematical Sciences, Queen Mary & Westfield College, London University; the National Academy of Sciences of Armenia,National Competitiveness Council of Armenia, and others.
In 1997 His Holiness Pope John Paul II bestowed the St. Gregory the Great Award to Dr. Sarkissian. In 2008 he received the highest honour in the Armenia Church, the St. Gregory the Illuminator medal, from His Holiness Karekin II, the Catholicos Patriarch of All Armenians in Holy Etchmiadzin.
From 1976 to 1984 he was a professor of Physics at Yerevan State University and subsequently Head of the Department of Computer Modelling of Complex Systems at the University's Department of Theoretical Physics. In 1984 he became a Visiting Research Fellow and later professor at the University of Cambridge.
In October 1991, Dr. Sarkissian established the first Armenian Embassy in the West in London. In addition to his diplomatic mission to the United Kingdom, he went on to become Senior Ambassador of the Republic of Armenia to Europe (Deputy Foreign Minister) and concurrently represented Armenia as Ambassador to the European Union, Belgium, the Netherlands, Luxembourg, and The Vatican. In 1995-96 he was Head of Mission of the Republic of Armenia to Europe. He was reappointed Ambassador to the United Kingdom in 1998.
Dr. Sarkissian was the Prime Minister of Armenia from 1996 to 1997. He has served as Special Advisor to the President of the European Bank for Reconstruction and Develop-ment and as a Governor of EBRD from 1993-2000.
In 2000 Dr. Sarkissian established the Eurasia Centre at Cambridge University's Judge Business School. Under his leadership, the Programme implemented a series of very successful projects, such as the Eurasia Business Executive and Leadership Programme for young business professionals in the Eurasia region.
Dr. Sarkissian has advised the CEOs and Corporate Boards of large global companies, including BP, Alcatel, Telefonica, Finmeccanica, Bekaerd, and others.