YEREVAN — Armenia and Georgia will build a new bridge at their main crossing to facilitate bilateral commerce and travel, the prime ministers of the two states announced after talks in Yerevan on Thursday.
Georgian Prime Minister Irakli Gharibashvili met his Armenian counterpart Hovik Abrahamian on the first day of his official visit to Armenia. "We agreed to further deepen close cooperation between Georgia and Armenia and my visit will serve this purpose," he told reporters afterwards.
"I also want to point out that we agreed that Armenia and Georgia will jointly build a bridge," added Gharibashvili. "We heard today about an interesting proposal to name it Friendship Bridge and we gladly accepted that proposal."
Abrahamian specified that the bridge will be constructed at the main border crossing located near the Armenian village of Bagratashen and Georgia's Sadakhlo. It currently has a single narrow bridge built over the Debed river in Soviet times.
Neither premier gave any dates for the planned construction or its anticipated cost. Abrahamian effectively linked the project with the ongoing reconstruction and expansion of Armenian border facilities at Bagratashen, which is mostly financed by the European Union. Georgian checkpoints across the frontier have already undergone significant modernization in recent years.
Gharibashvili, 32, stressed the importance of a 42 percent surge in Georgian-Armenian trade which he said was registered in the first half of this year. "This means that economic relations between our countries are developing and we will certainly keep that up," he said.
A statement released by the Armenian government quoted Gharibashvili and Abrahamian as saying during the talks that Georgia's recent Association Agreement with the EU and Armenia's plans to join the Russian-led Eurasian Economic Union will not hamper or damage bilateral commercial ties. It said the two sides also agreed to increase the capacity of a new Georgian-Armenian power transmission line, which is due to be built by 2018 for expanding mutual electricity supplies.
Gharibashvili arrived in Yerevan the day after a powerful landslide wreaked havoc on Georgia's sole border crossing with Russia, damaging a pipeline that transports Russian natural gas to Armenia. Gharibashvili said that the Georgian side has started repairing the pipeline section passing through the mountainous Upper Lars crossing and that Russian gas supplies will resume "in two or three days' time."
The landslide also blocked traffic through that mountain pass used by Armenian businesspeople engaged in export and important operations with Russia. According to the Armenian Foreign Ministry, the Upper Lars road will remain closed for at least ten days.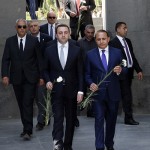 Georgian Prime Minister Garibashvili visited Armenian Genocide Memorialat Tsitsernakaberd together with his Armenian counterpart Abrahamian.
The officials laid flowers at the memorial and honored memory of the victims near eternal flame.
Irakly Garibashvili planted a fir tree at the Memory Alley of the memorial complex.