STEPANAKERT — Military authorities in Nagorno-Karabakh have captured a member of an Azeri reconnaissance-sabotage group that attempted to infiltrate into Armenian-controlled territory in Nagorno-Karabakh earlier this week. In a statement issued by the NKR Defense Ministry on July 10 named the captured Azerbaijani officer as Shahbaz Guliyev.
NKR Military have published photographs of Guliyev and confiscated weapons proving his arrest after Azerbaijani Defense Ministry denied the claims and said Guliyev is not an officer of Azerbaijan's army.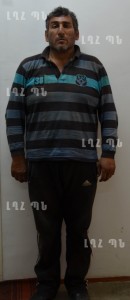 "The Azerbaijani propaganda is reluctant to accept the reality, denies any information that reveals its adventurous behavior. Since they also challenged the authenticity of the photographs and tangible evidence shown on them, denying that the items belong to the arrested reconnaissance-sabotage group member, we also present the latest photos of Guliyev himself taken by us," the NKR Defense Ministry statement said.
According to the Ministry's Information Department, the Defense Army's frontline units timely spotted the Azeri reconnaissance-sabotage group's movement and due to efficient measures some of the group members were apprehended, while the others took to flight. The Armenian side suffered no casualties as a result of the operation, the report said.
The released photographs show the items of the captured servicemen identified as 46-year-old Guliyev Shahbaz Jalaloghlu, a resident of Ghapanlu village of the Mirbashir region, including hand-grenades, a knife, a flag of Azerbaijan, guns and ammunition, etc.