YEREVAN — Several thousand people rallied in Yerevan's Liberty Square on Saturday to protest against government's the pension reforms.
The controversial reforms, which went into effect on January 1, envisage five percent salary deductions for the pension funds. The amended provision of the pension law is mandatory for all individuals born after January 1, 1974. The reforms have spurred a wide public discount.
Not only citizens receiving low wages, but also many young professionals in high-paying jobs, such as in the information technologies sector, appear unhappy with the new legislation that the government believes is the only alternative to today's so-called "generational solidarity" system in which senior citizens get their pensions at the expense of social payments provided by employed citizens.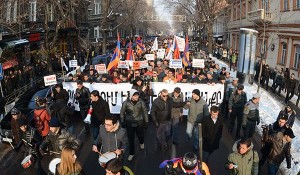 The civil initiative called Dem.Am (I'm Against) as well as four minority factions in the Armenian parliament, including the Armenian National Congress, Heritage, the Armenian Revolutionary Federation and the Prosperous Armenia Party, denounced the measure and demanded that the Court recognize it unconstitutional when it starts consideration of their claim later this month.
The crowd began chanting the slogans 'Victiory', 'I am Against' to open the rally.
David Khazhakyan, an activist of the civic group, stated. "With united efforts, we can reach a solution. No one apart from us will be the first to raise the problem. We have raised it, so will lead it to victory," he said, adding that the group has now embarked on active efforts to make the country constitutional.
The activist described the campaign as the society's conscious choice to protect its dignity.
"The law is for the human being, not vice versa. So the human being has to be at the heart," he added.