YEREVAN — Armenia demonstrated its modern warfare during the commander and staff exercises "Reaction-2013". Operative-tactic missiles SCUD and 8K14-1, antiaircraft missile systems C300, "OCA" complexes, "Krunk", "Baze" and other drones, radiolocation systems and weapons of Armenian production were presented. The representatives of the Armenian government followed the mass military exercises from a vantage ground. During "Reaction-2013" commander and staff exercises a special scene was planned and played out where decisions were to be made in extraordinary tense situation.
The steps were meant to push back the enemy's aggression and plan counter-strike scenarios. The steps of the government bodies and agencies in these situations were planned. The normative acts needed for the transfer of the government system to a higher alert situation were clarified.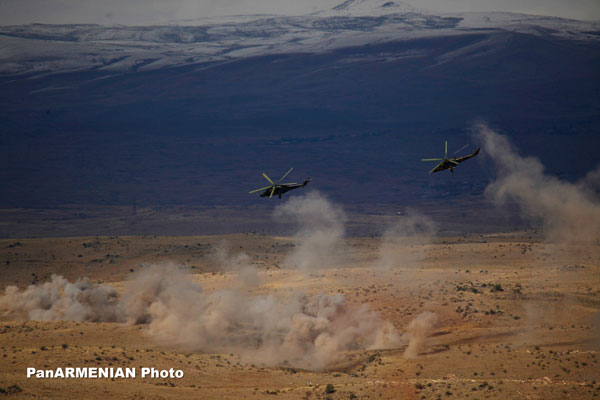 "Reaction – 2013" strategic commander and staff exercises were held in "Baghramyan" Military Center target range to enhance the level of coordination of the work of the governmental and military administrative bodies in case of possible aggression of military-political situation and implementing new and efficient methods in the system.
Prime Minister Tigran Sarkisian, Defense Minister Seyran Ohanian, and all the higher officials of the state's administration system and Armed Forces attended the exercises titled "Work of the State's Higher Officials in Making Strategic and Political Decisions".
The members of the Government led by the Prime Minister passed through a territory called "Prohibited Zone of Psychological Surmount", where the situation resembles war conditions. Later, the members of the Government watched the demonstrations of the intelligence and special task forces, which proved the high level of combat-readiness of the Armed Forces of the Republic of Armenia.