YEREVAN — Most Armenians remain skeptical about their government's declared efforts to combat endemic corruption in the country, according to a fresh survey released by Transparency International on Tuesday.
The Berlin-based watchdog's 2013 Global Corruption Barometer gauged popular perceptions of graft with opinion polls conducted around the world. It said 53 percent of some 1,000 respondents in Armenia believe that ongoing crackdowns on corrupt practices are "ineffective" or "very ineffective." Only 21 percent of them are satisfied with the government efforts.
Judiciary remains one of the most corrupt institutions in Armenia, according to the latest surveys. Armenians also perceive public officials/civil servants and medical and health services as other institutions engaged in corrupt practices most.
These findings reflect Armenia's position in another closely watched Transparency International survey, the Corruption Perceptions Index (CPI). Armenia ranked 129th of 183 countries covered in the most recent CPI last fall.
The authorities in Yerevan have repeatedly pledged to tackle bribery, nepotism and other corrupt practices in earnest. Prime Minister Tigran Sarkisian announced a new anti-corruption drive last November, urging civic and opposition groups to get involved in it. The latter dismissed the offer as unserious, however. They claim that President Serzh Sarkisian is not prepared for a genuine fight against corruption because it would endanger his hold on power.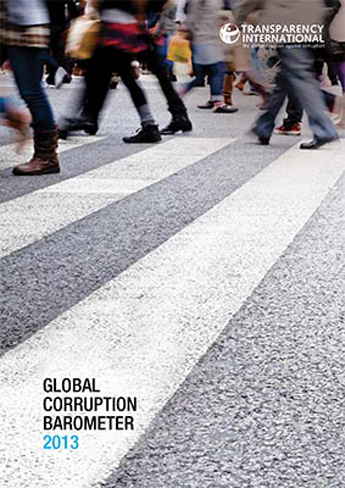 According to the Global Corruption Barometer, 43 percent of Armenians think that the scale of government corruption in their country has actually increased in the last two years. Only 19 percent feel that the situation has improved, with the remaining 38 percent seeing no major changes.
The judicial system, police, healthcare and civil service were rated as the country's most corrupt institutions, with at least two-thirds of respondents saying they are seriously affected by graft.
Varuzhan Hoktanian, the director of the Transparency International branch in Armenia, described the survey's findings as "very worrisome." "The bodies that are supposed to be at the forefront of the fight against corruption — notably the police and judiciary — are the most corrupt ones not only in Armenia but other CIS countries," he said at a news conference.