YEREVAN (RFE/RL) — Armenian President Serzh Sarkisian has agreed, in principle, to start a dialogue with Raffi Hovannisian based on the proposals the opposition leader sent him last week to end the post-election standoff.
At a Friday rally attended by thousands of his supporters Hovannisian demanded at least snap parliamentary elections and other serious government concessions in what he described as his last compromise offer to Sarkisian.
Hovannisian, in particular, offered to recognize the incumbent's continued 'de-facto' presidency in exchange for a promise of preterm legislative polls to be held by the end of this year, as well as sweeping electoral reforms and several key government positions to be held by people named by him.
The former candidate, who has been on a hunger strike in Yerevan's Liberty Square since March 10, said it was his ultimate proposal to settle the dispute and warned that he was ready to continue his protests at least until April 9 when Sarkisian is due to be officially sworn in for a second five-year term as president.
In a letter addressed to Hovannisian on Monday the president said the proposals, no matter how contrary they were to "the ideas of a proper formation of state authorities" and were directly against the "constitutional regulations", still could help kick-start an effective dialogue.
Sarkisian also hailed the readiness of his challenger to assume "serious control functions" as an opposition. At the same time, he urged him to quit his hunger strike for the sake of starting the dialogue.
"I am sure that if we start working purposefully, relying on our shared ideas, then we will certainly be able to achieve the result," said the president, according to his press office. "My appeal to you is, please, stop your hunger strike, recover and within one or two days both of us will take up pens and paper and start serious work, without any fuss, without making a show out of it, even assuming your very raw writing as a basis."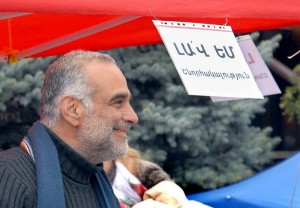 Hovannisian did not comment on the reply from the president immediately, promising to address the matter at another open-air press conference in the square on Wednesday. Before that, he said, he would address another letter to Sarkisian on Tuesday.
Sarkisian and Hovannisian already were in talks early on during the current post-election crisis. The two political leaders met at the presidential compound on February 21 and Hovannisian then, too, urged Sarkisian to call fresh legislative polls. The president rejected the idea and offered to appoint Hovannisian as head of a special state commission that would be tasked with drafting sweeping amendments to the Armenian Constitution, a proposal later dismissed by Hovannisian and his Zharangutyun (Heritage) party.