YEREVAN — Renowned Armenian modern painter Hakob Hakobyan passed away on Friday evening. He was 90.
A People's Artist and a holder of the State Prize of Armenia, Hakobyan was born to a family of Armenian immigrants in Alexandria, Egypt. At age nine, he was admitted to the Melkonian Armenian School of Cyprus, where he studied for ten years with intervals. He later continued his education at the Cairo High School of Fine Arts and the The Académie de la Grande Chaumière (academy of the large thatched cottage) of Paris.
He moved to his ancestor's homeland in 1961 and settled in Leninakan (Gyumri) a year later.
In 1967, Hakobyan was elected a member of the Supreme Council of the Soviet Armenia. In 1977, he was honored with State Award of Armenia and the People's Artist title.
The canvas Spring (1971) brought the artist a gold medal at the first Trans-Caucasus Biennale in 1986.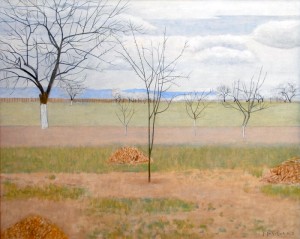 In 1987, Hakobyan was awarded with the USSR State Prize for a series of watercolor paintings that stood out with a high degree of artistism.
His most prominent pieces include Park Near St. Hripsime Temple, Echmiadzin (1976), Vineyard in Winter (1979), In Artist's Studio (1980), Forlorn Corner (1980) and Garni Gorge (1980).
Hakobyan's art is currently part of a new exhibition of Soviet and contemporary art from Central Asia and the Caucasus that opened just four days before his death at the Sotheby's auction house in London called "At The Crossroads: Contemporary Art From The Caucasus And Central Asia.
According to Sotheby's catalogue notes on Hakobian written by Sabina Sadova. "Hakobyan introduced a new facet to Armenian art, a facet that makes him powerful from colorists."
Sotheby's catalogue also notes: "His palette is calm and dominated by muted ochres and brown hues. His linear, mostly vertical calculated compositions convey feelings of displacement, nostalgia and muteness. Hakobyan's motifs contain none of the traditional Armenian elements as established by Saryan, though the feelings expressed by his works intimately reflect the feelings of Armenians towards their land and their turbulent past. His works exude a very contemporary feel."
"…there is a language of symbols that the artist develops in order to construct his own version of Armenian national identity. The road is a symbol that carries a special meaning to the Armenian people. It illustrates the history of frequent and forced resettlement that shaped Armenian identity. The mathematical precision of Hakobyan's art is perhaps as important for its understanding as the symbols he uses. The road and the pole are present in most of Hakobyan's landscapes in both his early and late periods."