YEREVAN — Opposition presidential candidate Raffi Hovannisian vowed to continue and expand his street protests against official results of Armenia's presidential election as he again rallied thousands of supporters in Yerevan on Friday.
Addressing the crowd in the city's Liberty Square, he also revealed that President Serzh Sarkisian rejected his compromise proposals made at their meeting on Thursday.
Hovannisian said he proposed that the Armenian authorities call a repeat election. "The answer was 'no,'" he said.
Hovannisian said he then suggested that Sarkisian agree to snap parliamentary elections that would "return power to the people." "What do you think was the answer? No," he said.
"I have nothing to say to these de facto authorities anymore," the U.S.-born opposition leader continued, pledging to carry on with his campaign of peaceful demonstrations and extend it to other parts of Armenia. He said he will rally supporters in Armenia's second city of Gyumri and three major towns on Saturday before holding another demonstration in downtown Yerevan on Sunday.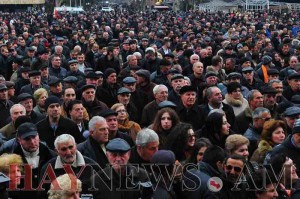 "This popular struggle will not die down. We will achieve victory," Hovannisian added to rapturous applause.
Hovannisian also repeated his appeal to the people to remain peaceful and abide by a constitutional means of reaching resolution.
Earlier in the day the Heritage Party leader held separate meetings with U.S. Ambassador to Armenia John Heffern and Ambassador Heidi Tagliavini, the head of the OSCE/ODIHR Election Observation Mission, to discuss the post-election situation in Armenia. No other details of the meetings have been reported.