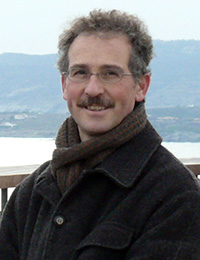 YEREVAN (Armenpress) — Nicosia Armenian Church restoration project coordinator, Italian architect Paolo Vitti says Armenia has a great positive impact on the European culture.
"I am very impressed with my visit to Armenia since it is one thing to conduct a research, the other to come and see. My family members are Italians of Istanbul, they have Armenian friends, relatives, in Rome where I live, I also know Armenians, and I can say over my entire life I have been among Armenians, Armenia has always been in my life. And now I am visiting Armenia feeling myself more involved here", he said in an interview with "Armenpress".
Paolo Vitti is also a member of the Scientific Council of 7 most endangered monuments project of the "Europa Nostra" organization. Armenia is a member of this organization since 2012.
The Italian architect informed that this year they want to demonstrate more global approach within the project framework.
"This approach supposes not only preservation, but also provision of respective ways to make the territory more visible, the work with the people living there. But I would like to emphasize one important factor: the process of the preservation must be organized without causing damages since there is a great danger of doing it wrong during the restoration works, that's why we are concentrated on forming an appropriate methodology. We expect this to become an example of that global approach in the cultural heritage of Armenia", Paolo Vitti said.
Referring to his visits to different places of Armenia, he said he has been in Gyumri, which, according to him, is a typical example of a well designed city.
"The city has a beautiful architecture, and I think that if appropriate restoration works, renovations are done without touching the past, Armenia will have a very big city. I have seen city Ani from above and I can say I am impressed by its beauty, the importance of that place. I just want to say Ani must be a territory without borders", Paolo Vitti concluded.