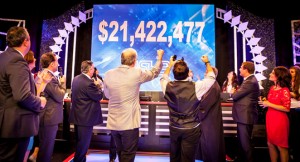 LOS ANGELES — Armenia Fund Telethon 2012 has raised $21,422,477 in pledges to support vital humanitarian and infrastructure projects in Armenia and Artsakh. The funds will be used to revitalize Armenia's struggling communities, strengthen Artsakh's strategic border villages and assist in Syrian Armenian relief efforts.
This year, fundraisers have been held in the United States, Canada, France, Germany, Switzerland, Belgium, Holland, Greece, Sweden, Great Britain, Austria, Australia, Argentina, Brazil, and Russia. Funds raised through all 2012 events have been added to the proceeds of the Telethon, and the grand total was announced prior to the conclusion of the event.
$12 million had been donated at a fundraising dinner organized in Moscow at Golden Palace restaurant complex on November 8 belonging to Moscow-based Armenian tycoon Konstantin Manukyan. The biggest donors were Reso Garantia company's founders, Sarkisov brothers, who donated $4 million. Last year they donated $3 million. The sum is intended for the reconstruction of Stepanakert N1 school.
The second biggest donor of this year is Levon Hayrapetyan who has promised $2 million for the construction of Suvorov military academy in Nagorno Karabakh. The third biggest donor is Hayk Magakelyan with $1.6 million.
The owner of "Tashir" Group of Companies Samvel Karapetyan has promised to donate $1.5 million.
Last year the Fund raised more than $30.9 million.