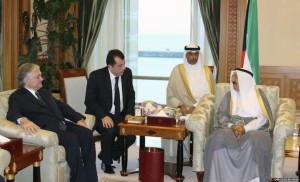 KUWAIT (RFE/RL) — Kuwait will provide humanitarian assistance to scores of Syrian citizens of Armenian descent who have taken refuge in Armenia since the outbreak of the bloody conflict in Syria, official Yerevan said on Tuesday.
Armenia's Foreign Ministry said Foreign Minister Edward Nalbandian received such a pledge when he visited the oil-rich Gulf state and met its emir, Sheikh Sabah Al-Ahmad Al-Jaber Al-Sabah, and other top Kuwaiti officials on Monday.
A ministry statement said the situation in Syria was on the agenda of Nalbandian's talks with Kuwait's deputy prime minister and foreign minister, Sheikh Sabah Khaled Al-Hamad Al-Sabah. "Edward Nalbandian expressed concern over the situation in Syria, pointing out that Armenia is continuing to receive thousands of Syrian Armenian refugees because of the conflict," it said.
"In this context, the Kuwaiti foreign minister informed [Nalbandian] about the Kuwaiti authorities' decision to allocate humanitarian assistance to Syrian Armenians in Armenia," added the statement. It said nothing about the scale and form of the promised aid.
According to the authorities in Yerevan, the number of Syrian Armenians who have fled to Armenia exceeds 5,000. Many of them are increasingly struggling to get by in their ancestral homeland, unable to find well-paid jobs and sell their properties in Syria. The cash-strapped Armenian government has so far announced no plans to seek financial assistance to these refugees from foreign governments and international organizations.
Like other Gulf Arab states, Kuwait is openly backing Syrian opposition groups in their armed struggle against President Bashar Al-Assad's regime, having recognized them as a legitimate representative of the Syrian people. Foreign Minister Al-Sabah urged the European Union to follow suit at the weekend. It is not clear if he raised the matter with Nalbandian as well.
Armenia, one of the few countries that keep functioning diplomatic missions in Syria, has treaded far more carefully on the Syrian conflict, mindful of security risks facing tens of thousands of ethnic Armenians remaining in the Middle Eastern nation. The Syrian Armenian community is thought to have been generally loyal to the embattled regime in Damascus.
According to the Foreign Ministry statement, meeting with Nalbandian, Emir Al-Sabah accepted President Sarkisian's invitation to visit Armenia and praised his country's small Armenian community. Nalbandian, for his part, thanked the Kuwaiti government for helping the community to build a church.
Sarkisian paid a state visit to Kuwait in 2009. The two countries opened embassies in each other's capitals after that trip.