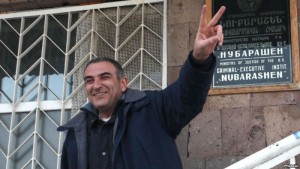 YEREVAN — Facing an uproar from Armenia's leading press freedom groups and independent media outlets, law-enforcement authorities released on Monday Hayk Gevorgian, a veteran editor and correspondent with the pro-opposition daily "Haykakan Zhamanak," who was arrested on controversial charges on Friday.
Gevorgian linked the case with his professional activities as he walked free from Yerevan's Nubarashen prison early in the afternoon.
Gevorgian was detained for allegedly hitting and injuring another man with a car driven by him on January 13. The Armenian police say he did not help the middle-aged man, Armen Frangulian, and instead verbally abused him before fleeing the scene.
Frangulian confirmed this version of events in a police video report broadcast by Armenian television over the weekend. Wrapped in a blanket, he said he has still not recovered from the injuries despite spending several days in a Yerevan hospital. The report also featured a hospital doctor saying that those injuries were of "medium gravity."
Nikol Pashinian, the "Haykakan Zhamanak" editor dismissed those claims and claimed that the incident was a police provocation organized in retaliation for Gevorgian's scathing articles about Vladimir Gasparian, the chief of the national police. One of those articles was published on January 13.
Gevorgian likewise alleged personal retribution by Gasparian after his release. "They just wanted to show what happens to those who write negative things about him," he told RFE/RL's Armenian service (Azatutyun.am) outside the Nubarashen jail. "This is simply persecution."
"I had no doubts that they will arrest me because, thank God, I know the intellectual level of that [law-enforcement] system very well," he said. "They prepared the arrest for 20 days. Even in those circumstances they did it with huge violations, which made my dream come true."
Gevorgian at the same time refused to comment on details of the January 13 incident. "They will commit more mistakes during their further investigation and the trial. If I recount details now they may avoid some of those mistakes," he explained.
The Yerevan Press Club and the Armenian Committee to Protest Freedom of Speech in a joint statement expressed outrage at the police actions. "For more than ten days Hayk Gevorgian was on the police wanted list while continuing his journalistic activities and entering government buildings," said the statement issued on Saturday.
The two media watchdogs also described as "fairly plausible" the "Haykakan Zhamanak" claims that Gevorgian was prosecuted for his coverage of the police and Gasparian in particular.