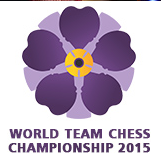 The opening ceremony of the 10th World Team Chess Championship took place at the Golden Palace Hotel Resort and Spa in Tsaghkadzor, Armenia on April 18th, 2015.
The participants of the Championship are the strongest chess players from the ten strongest teams – Russia, Ukraine, China, US, India, Hungary, Israel, Cuba, Egypt and Armenia.
The ceremony was atended by President of the Republic of Armenia, who doubles as the President of the Armenian Chess Federation, Serzh Sarkisian, FIDE President Kirsan Ilyumzhinov, a number of state officials and the delegates of 10 participant countries.
An amazing mime show, commemorating the 100th anniversary of the Armenian Genocide, was performed for the guests of the championship urging the entire world to never repeat such an immense crime and live in peace and solidarity.
After the show President Sarkisian delivered a speech welcoming the chess players and chess lovers in one of Armenia's best tourist destinations – Tsaghkadzor. He congratulated all people present in the hall on the occasion of this great event and wished good luck and a fair competition to all the participants.
The President also said that 2015 is a special year for Armenia, as well as the entire Armenian nation, since Armenians commemorate the 100th anniversary of the Armenian Genocide. "For this purpose our country will hold various events, which convey four main messages – remembrance, gratitude, prevention and rebirth. I'm grateful to our chess players for proving the idea of one of these messages, namely rebirth, by their game and actions well before 2015. And if small Armenia's national team could become an Olympic Champion for the 3rd time and once a World Champion, then the plans of those who wanted to exterminate us have absolutely failed: we exist, have survived and are developing. Chess is the best example of fair game, fair struggle for many spheres of life, and I'm sure that the Championship in Tsaghkadzor will be tense, interesting and we will witness numerous beautiful and insightful games. Let the strongest win," the President said.
In his speech Kirsan Ilyumzhinov greeted the guests of the championship and wished good luck to all the ten teams and expressed hope for brilliant and exciting games.
A video telling about the history of the World Team Chess Championship from 1985 up to date and presenting all the chess players of the 10th World Team Chess Championship was another fascinating part of the opening ceremony, after which the teams were called onto the stage for the drawing ceremony.
Match Day One Results:
Cuba – Hungary       2-2
China – USA             2 1/2 – 1 1/2
Ukraine – Russia     2 1/2 – 1 1/2
Israel – Armenia     2 1/2 – 1 1/2
Egypt – India           1 – 3