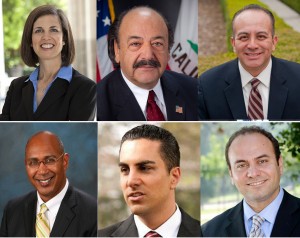 The Armenian Council of America – Political Action Committee announces the following endorsements for the California State Assembly in the upcoming November 6th general election.
Kristin Olsen for the 12th Assembly District
Kristin Olsen was elected to the California State Assembly in November 2010 and served as Republican Whip in the California State Assembly. As a former Modesto City Councilwoman, Kristin Olsen established a close relationship with the local Armenian American community. Olsen is currently the Vice Chair of the Higher Education and is a member of the Agriculture and Insurance Committees. As a rising star within the Republican Party reelecting Assemblymember Olsen will be beneficial to Armenian American issues.
The new 12th Assembly District includes Calaveras, Mariposa, Mono, and Tuolumne counties, and parts of Madera, San Joaquin and Stanislaus counties
Khatchik H. Achadjian for the 35th Assembly District
K.H. "Katcho" Achadjian is a current Republican member of the California State Assembly, representing the 33rd district. He was first elected on November 2, 2010. From 1998 to 2010 he was supervisor for San Luis Obispo County. He was also chair of the San Luis Obispo County Board of Supervisors in 2001 and 2006. Mr. Achadjian has also been a successful business owner since 1978.
An ethnic Armenian born in Lebanon, Mr. Achadjian graduated from Cuesta Community College, and went on to graduate from California Polytechnic State University San Luis Obispo.
His 12 years of representing the South County on the Board of Supervisors, served Achadjian well in building a reputation as a responsive, hard-working and energetic Assemblymember who put the needs of the State above ideological considerations.
The new 35th Assembly District includes parts of San Luis Obispo County, Santa Barbara County, and the communities of Guadalupe, Lompoc, and Santa Maria.
Raul Bocanegra for the 39th Assembly District
As an educator, community leader, legislative advocate, and board member of various non-profit organizations, Raul Bocanegra has been active in the communities he wishes to represent in the State Assembly. This activism is what led Mr. Bocanegra in becoming the top aide to former Los Angeles City Council President Alex Padilla, and later chief of staff to California State Assemblymember Felipe Fuentes. This activism is also where Mr. Bocanegra has acquainted himself with Armenian American issues and befriended representatives of the Armenian American community.
As an academic (Mr. Bocanegra is a former college instructor at Cal State Long Beach, current instructor at Cal State Northridge) and first time candidate with experience in state and local government, Raul Bocanegra will bring new solutions and be a strong new voice for the North East San Fernando Valley in the State Assembly.
The new 39th Assembly District includes the communities of Pacoima, San Fernando, Arleta, Mission Hills, Sylmar, North Hollywood, Lake View Terrace, Northeast Granada Hills, Sunland-Tujunga, and Sun Valley.
Christopher Holden for the 41st Assembly District
Chris Holden is a public servant, small business owner and lifelong resident of Pasadena, California. Christopher Holden is also a former Mayor of Pasadena, serving from 1997 to 1999, and a council member since 1989.
Under his leadership, the city created its first living wage ordinance, which ensured that workers could earn decent pay for their hard work and contribute to the local economy. Holden's other accomplishments include, charter reform through which the City Council created the position of elected Mayor and compensation for Councilmembers, Utility Deregulation, and redevelopment of the City's civic center.
As Mayor, and Councilmember, Mr. Holden has established deep ties with the Armenian American community in Pasadena and as the Assemblymember from the 41st Assembly district has pledged to continue that tradition.
The new 41st Assembly District includes South Pasadena, Pasadena, East Pasadena, Altadena, Sierra Madre, Monrovia, San Dimas, La Verne, Claremont, Upland, San Antonio Heights and Rancho Cucamonga.
Mike Gatto for the 43rd Assembly District
Mike Gatto was elected to the California State Assembly in 2010 and served as Assistant Speaker Pro Tempore. Prior to the Assembly Mr. Gatto volunteered as well as served on numerous non-profit boards that aimed to help the local community. He has also worked within the Los Angeles City Council as well as becoming District Director and acting Chief of Staff to Congressman Brad Sherman. During this period Mr. Gatto established a close relationship with the local Armenian American community and familiarized himself on Armenian American causes.
As a key member of the Democratic State Legislature, Mr. Gatto has had an active first term, guiding numerous bills to law. Chief among them for Armenian Americans was Assembly Bill 173 (AB 173). AB 173 extended the deadline for the families of victims of the Armenian Genocide to file claims against insurance companies who previously denied victims claims to December 31, 2016.
As a rising star within California's Democratic Party reelecting Assemblymember Gatto will be beneficial to Armenian American issues.
The 43rd Assembly District includes the communities of Glendale, Burbank, La Crescenta, La Canada Flintridge and the Los Angeles communities of Silver Lake, Los Feliz, Hollywood and Toluca Lake.
Adrin Nazarian for the 46th Assembly District
Adrin Nazarian is an Armenian American with deep rooted knowledge of the political and legislative process as well as the communities which he wishes to represent. Adrin Nazarian grew up in the San Fernando Valley, attending high school there before receiving his degree in Economics from UCLA in 1996.
Mr. Nazarian is currently the chief-of-staff to L.A. City Councilmember Paul Krekorian, who represents the communities of Studio City, Sherman Oaks, Valley Village, North Hollywood and Valley Glen. Previously, Mr. Nazarian served as chief-of-staff to then-Assistant Majority Leader Paul Krekorian in the California State Legislature. His experience also includes working as a governmental and political aide to Congressman Brad Sherman and Los Angeles City Councilmember Tom LaBonge.
As a State Assemblymember, Mr. Nazarian's hefty experience within the State and local political system as well as his roots within the San Fernando Valley and the Armenian community will be beneficial to Armenian American issues.
The new 46th Assembly District includes the Los Angeles neighborhoods of North Hollywood, Toluca Lake, Studio City, Sherman Oaks, Valley Village, Valley Glen, Van Nuys, Panorama City, North Hills, Lake Balboa and the Hollywood Hills.