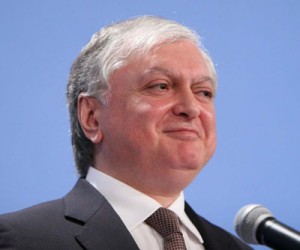 LOS ANGELES — Edward Nalbandian, the Minister of Foreign Affairs of Armenia, will speak before the Los Angeles World Affairs Council at a time of heightened tension in the southern Caucasus between Armenia and its neighbor Azerbaijan. The lecture titled "Armenia in a troubled region" will be held on Monday September 24, 2012 7.30 p, at the InterContinental Hotel, 2151 Ave. of the Stars
The conflict between land-locked Armenia and oil-rich Azerbaijan was exacerbated recently when an Azeri army officer was convicted of hacking to death an Armenian on a NATO course – and was subsequently given a hero's welcome on his return to Azerbaijan. In addition to this immediate threat, the Foreign Minister will talk about his country's relations with NATO, Russia and Iran, and its difficulties in normalizing relations with Turkey. And he will address Armenia's relations with the United States, and the influence Washington can bring to bear on the volatile region of the southern Caucasus.
Foreign Minister Nalbandian's career as a diplomat began in the embassy of the former Soviet Union in Lebanon in 1982. After Armenia's independence from the USSR he served as the Ambassador of Armenia to Egypt, France, Israel and the Vatican before taking up his position as Minister of Foreign Affairs in 2008.
http://www.lawac.org/Default.aspx?tabid=103&eventid=30102